The Collected Letters of C.S. Lewis, Volume 1: Family Letters, 1905-1931 (Hardcover)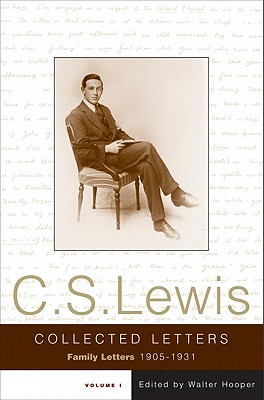 $34.95
Special Order - may be out of print
Description
---
The life and mind of C. S. Lewis have fascinated those who have read his works. This collection of his personal letters reveals a unique intellectual journey. The first of a three-volume collection, this volume contains letters from Lewis's boyhood, his army days in World War I, and his early academic life at Oxford. Here we encounter the creative, imaginative seeds that gave birth to some of his most famous works.
At age sixteen, Lewis begins writing to Arthur Greeves, a boy his age in Belfast who later becomes one of his most treasured friends. Their correspondence would continue over the next fifty years. In his letters to Arthur, Lewis admits that he has abandoned the Christian faith. "I believe in no religion," he says. "There is absolutely no proof for any of them."
Shortly after arriving at Oxford, Lewis is called away to war. Quickly wounded, he returns to Oxford, writing home to describe his thoughts and feelings about the horrors of war as well as the early joys of publication and academic success.
In 1929 Lewis writes to Arthur of a friend ship that was to greatly influence his life and writing. "I was up till 2:30 on Monday talking to the Anglo-Saxon professor Tolkien who came back with me to College ... and sat discoursing of the gods and giants & Asgard for three hours ..." Gradually, as Lewis spends time with Tolkien and other friends, he admits in his letters to a change of view on religion. In 1930 he writes, "Whereas once I would have said, 'Shall I adopt Christianity', I now wait to see whether it will adopt me ..."
The Collected Letters of C. S. Lewis, Volume I offers an inside perspective to Lewis's thinking during his formative years. Walter Hooper's insightful notes and biographical appendix of all the correspondents make this an irreplaceable reference for those curious about the life and work of one of the most creative minds of the modern era.
About the Author
---
Clive Staples Lewis (1898-1963) was one of the intellectual giants of the twentieth century and arguably one of the most influential writers of his day. He was a Fellow and Tutor in English Literature at Oxford University until 1954, when he was unanimously elected to the Chair of Medieval and Renaissance Literature at Cambridge University, a position he held until his retirement. He wrote more than thirty books, allowing him to reach a vast audience, and his works continue to attract thousands of new readers every year. His most distinguished and popular accomplishments include Out of the Silent Planet, The Great Divorce, The Screwtape Letters, and the universally acknowledged classics The Chronicles of Narnia. To date, the Narnia books have sold over 100 million copies and have been transformed into three major motion pictures.
Clive Staples Lewis (1898-1963) fue uno de los intelectuales más importantes del siglo veinte y podría decirse que fue el escritor cristiano más influyente de su tiempo. Fue profesor particular de literatura inglesa y miembro de la junta de gobierno en la Universidad Oxford hasta 1954, cuando fue nombrado profesor de literatura medieval y renacentista en la Universidad Cambridge, cargo que desempeñó hasta que se jubiló. Sus contribuciones a la crítica literaria, literatura infantil, literatura fantástica y teología popular le trajeron fama y aclamación a nivel internacional. C. S. Lewis escribió más de treinta libros, lo cual le permitió alcanzar una enorme audiencia, y sus obras aún atraen a miles de nuevos lectores cada año. Sus más distinguidas y populares obras incluyen Las Crónicas de Narnia, Los Cuatro Amores, Cartas del Diablo a Su Sobrino y Mero Cristianismo.