Rites of Peace: The Fall of Napoleon and the Congress of Vienna (Paperback)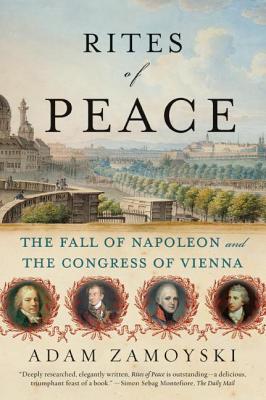 $19.99

usually available in 3-5 business days
Description
---
Following Napoleon's defeat and exile in 1814, the future of the European continent hung in the balance. Eager to negotiate a lasting, workable peace, representatives of Britain, Austria, Prussia, and Russia—along with a host of lesser nations—gathered in Vienna for an eight-month-long political carnival, combining negotiations with balls, tournaments, picnics, artistic performances, and other sundry forms of entertainment for the thousands of assembled aristocrats. While the Congress of Vienna resulted in an unprecedented level of European stability, the price of peace would be shockingly high, with many crucial questions ultimately decided on the battlefield or in squalid roadside cottages amid the vagaries of war.
Internationally bestselling author Adam Zamoyski's Rites of Peace is a meticulously researched, masterfully told account of these extraordinary events and their profound historical consequences, featuring a cast of some of the most influential and powerful figures in history.
About the Author
---
Adam Zamoyski was born in New York and educated at Oxford. He is the author of Moscow 1812. He lives in London.