Gaspipe: Confessions of a Mafia Boss (Paperback)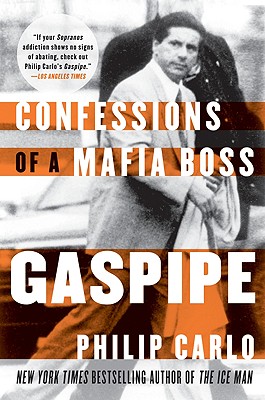 $15.99

usually available in 3-5 business days
Description
---
The boss of New York's infamous Lucchese crime family, Anthony "Gaspipe" Casso's life in the Mafia was preordained from birth. His rare talent for "earning"—concocting ingenious schemes to hijack trucks, rob banks, and bring vast quantities of drugs into New York—fueled his unstoppable rise up the ladder of organized crime. A mafioso responsible for at least fifty murders, Casso lived large, with a beautiful wife and money to burn. When the law finally caught up with him in 1994, Casso became the thing he hated most—an informer.
From his blood feud with John Gotti to his dealings with the "Mafia cops," decorated NYPD officers Lou Eppolito and Stephen Caracappa, to the Windows case, which marked the beginning of the end for the New York Mob, Gaspipe is Anthony Casso's shocking story—a roller-coaster ride into an exclusive netherworld that reveals the true inner workings of the Mafia, from its inception to the present time.
About the Author
---
Philip Carlo was born and raised on the mean streets of Bensonhurst, Brooklyn—the same streets Tommy Pitera hailed from. There, Carlo earned a Ph.D. in street smarts, and he escaped a life of crime by writing about it with unusual insight. He is the author of the bestsellers The Night Stalker, about notorious serial killer Richard Ramirez, and The Ice Man, about infamous Mafia contract killer Richard Kuklinski. Carlo lives with his wife, Laura, in New York City.
Praise For…
---
"And if your Sopranos addiction shows no signs of abating, check out Philip Carlo's GASPIPE." — Los Angeles Times
"This powerful story is required reading for anyone with a yen for the Mafia, the criminal underworld and a law enforcement system struggling to keep up." — Publishers Weekly
PRAISE FOR GASPIPE "Carlo has the real goods. …the inside information about the lifestyle, rituals, killings and betrayals is priceless. An authoritative look at a once-rampant predator now at bay." — Kirkus Reviews
PRAISE FOR THE NIGHT STALKER "Carlo has given us an astonishing portrait of a killer not seen since In Cold Blood." — Denis Hamill, New York Daily News
"We've all read novelists and true crime writers who try to put you inside-the-mind-of-the-serial-killer, but I can't remember one that succeeded with the physical and psychological intimacy of this collaboration between the writer and the killer himself." — New York Press
"An exceptionally well-told true crime tale." — Publishers Weekly
"Phil Carlo paints a disturbing portrait of cold-blooded killer, Richard Ramirez. In the true crime tradition of In Cold Blood and The Executioner's Song, Carlo compellingly tells the ghastly story from numerous points of view, including those of Ramirez and two ingenious sheriff's detectives who finally cracked the case." — People
"…This book will provide true crime readers chilling inside perspective of a serial killer." — Library Journal
"I stayed up until 3:00 a.m. because I couldn't put the book down. Quite a compelling read. The amount of details is truly amazing." — San Jose Mercury News
"I couldn't put the book down. The details are amazing, told from many points of view; very scary indeed." — Los Angeles Times
"Absorbing…detailed, Phil Carlo allows the killer's grotesque acts to be squarely view." — Los Angeles Times Book Review
"Carlo's book is a chilling, painstakingly researched account of the summer that kept residents of the San Gabriel Valley and later the entire state, captive behind closed doors and windows in fear. I read the book twice I was so taken by it." — Northridge Chronicle
"Carlo's book is filled with never-known-before details. He did his homework and wrote a very compelling true crime tale." — CNN
"A fine entry in the burgeoning field of works tracing the decline of the traditional organized crime families and their once impenetrable structures." — Booklist
"Carlo tells this amazing story like a novel, with its dramatic ending when a hard-working, lowly police detective eventually got on Kuklinski's trail and hunted the hunter like a real-life version of The Fugitive. A chilling look at the creation of a psychopath." — Toronto Sun
"... the inside information about the lifestyle, rituals, killings and betrayals is priceless.An authoritative look at a once-rampant predator now at bay." — Kirkus Reviews