Russians Among Us: Sleeper Cells, Ghost Stories, and the Hunt for Putin's Spies (Paperback)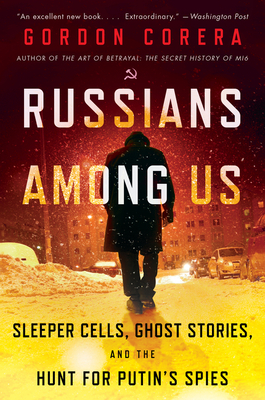 $17.99

usually available in 3-5 business days
Description
---
With intrigue that rivals the best le Carré novels, Russians Among Us tells the explosive story of Russia's espionage efforts against the United States and the West—from the end of the Cold War to the present and the significant threat of hacking the 2020 election
Spies have long been a source of great fascination in the world of fiction, but sometimes the best spy stories happen in real life. Russians Among Us tells the full story of Putin's escalating espionage campaign in the West, the Russian 'deep cover' spies who penetrated the US and the years-long FBI hunt to capture them. This book also details the recruitment, running, and escape of one of the most important spies of modern times, a man who worked inside the heart of Russian intelligence. In this thrilling account Corera tracks not only the history, but the astonishing evolution of Russian espionage, including the use of 'cyber illegals' who continue to manipulate us today and pose a significant threat to the 2020 election.
Like a scene from the TV drama The Americans, in the summer of 2010 a group of Russian deep cover sleeper agents were arrested. It was the culmination of a decade-long investigation, and ten people, including Anna Chapman, were swapped for four people held in Russia. At the time it was seen simply as a throwback to the Cold War. But that would prove to be a costly mistake. It was a sign that the Russian threat had never gone away and more importantly, it was shifting into a much more disruptive new phase. Today, the danger is clearer than ever following the poisoning in the UK of one of the spies who was swapped, Sergei Skripal, and the growing evidence of Russian interference in American life.
Russians Among Us describes for the first time the story of deep cover spies in America and the FBI agents who tracked them. In intimate and riveting detail, it reveals new information about today's spies—as well as those trying to catch them and those trying to kill them.
About the Author
---
Gordon Corera has been the BBC's security correspondent since 2004. He has reported from London, Moscow, and Washington, and is the only journalist to have interviewed serving heads of both the CIA and MI6. He has covered firsthand many of the central episodes in the spy wars between the three countries and has unparalleled insight into the working of all sides. He is the author of several books, including The Art of Betrayal: The Secret History of MI6, and has contributed to a number of important BBC documentary series about MI6, the CIA, and Russia.
Praise For…
---
"[An] excellent new book… Extraordinary… Corera weaves multiple story lines together to make a compelling case. By the time he works his way to Russia's 2016 election interference, the operation isn't a surprise, it's an inevitability." — Washington Post
"Corera tells this astonishing tale with deft authority, placing it in the wider context of Russian intelligence strategy.  No one is better versed in the intricacies of the continuing spy war between East and West." — Ben Macintyre, The Times (UK)
"The sirens were wailing well before 2016... Yet American politicians, the media and the public aided the Russian project at every step… Corera doesn't dwell on President Trump's response to Russia. Rather, he indicts the United States and the West for a collective reaction that was underwhelming for two decades." — San Francisco Chronicle
"Often reading like a John Le Carré novel, this work traces the steps of Russian deep undercover agents and the efforts of the FBI to uncover them… A thrilling, fast-paced look at Russia's ongoing operations… This exciting read will be enjoyed by fans of real life and fictional spy stories." — Library Journal (starred review)
"An eye-opening look at the "illegals" and other agents who have been spying for Russia, Soviet and otherwise, over the last several decades… Corera tells a big story in a relatively short space… A book that helps make sense of recent headlines and old news alike." — Kirkus Reviews
"No Frederick Forsyth thriller could be as gripping as this real-life story." — Daily Mail (UK) on Operation Columba
"[An] extraordinary, colourful and moving story… [A] thrilling tale." — Sunday Times (London) on Operation Columba
"Corera is to be congratulated for bringing to light, with humour and verve, a virtually unknown chapter of the war." — Daily Telegraph (London) on Operation Columba
"[An] amazing story of the secret pigeon service and how it helped to win the war. Well-researched and well-told, as much about humans as pigeons, it is replete with eccentric Englishmen, ruthless Nazis, and brave resisters in occupied Europe who risk their lives for the Allied cause." — Nicholas Reynolds, author of Writer, Sailor, Soldier, Spy on Operation Columba
 "A wide-ranging, thought-provoking, and highly readable history of Britain's postwar Secret Intelligence Service, popularly known as MI6." — The Wall Street Journal on The Art of Betrayal
"The best post-1949 account of British intelligence I have ever read. This is as good as it gets."  — The Spectator (UK) on The Art of Betrayal