Child Development and Education, Enhanced Pearson Etext with Loose-Leaf Version -- Access Card Package (Paperback)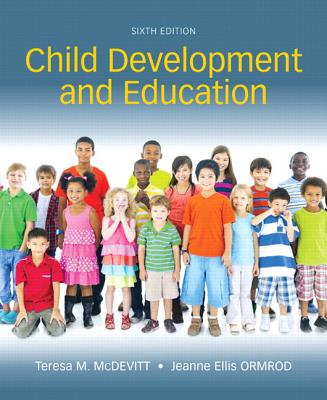 $99.99
Special Order - may be out of print
Description
---
NOTE: Used books, rentals, and purchases made outside of Pearson
If purchasing or renting from companies other than Pearson, the access codes for the Enhanced Pearson eText may not be included, may be incorrect, or may be previously redeemed. Check with the seller before completing your purchase.
This package includes the Enhanced Pearson eText and the loose-leaf version.
Topical, evidence-based, and applied
Written by a developmentalist and an educational psychologist,
Child Development and Education
bridges the gap between theory and practice, showing those who teach and care for infants, children, and adolescents how to apply developmental research and theory to everyday practice. This topically organized text describes developmental phenomena and provides instruction and opportunities to practice observations of and analyses of what children say, do, and create, ensuring that educators can make informed decisions that meet children's and adolescents' needs. The Enhanced Pearson eText features embedded video, assessments, teacher certification exam prep, and video analysis exercises.
Improve mastery and retention with the Enhanced Pearson eText*
The Enhanced Pearson eText provides a rich, interactive learning environment designed to improve student mastery of content. The Enhanced Pearson eText is:
Engaging. The new interactive, multimedia learning features were developed by the authors and other subject-matter experts to deepen and enrich the learning experience.
Convenient. Enjoy instant online access from your computer or download the Pearson eText App to read on or offline on your iPad(R) and Android(R) tablet.*
Affordable. Experience the advantages of the Enhanced Pearson eText along with all the benefits of print for 40% to 50% less than a print bound book.
*
The Enhanced eText features are only available in the Pearson eText format. They are not available in third-party eTexts or downloads.
*The Pearson eText App is available on Google Play and in the App Store. It requires Android OS 3.1-4, a 7" or 10" tablet, or iPad iOS 5.0 or later.
0134013530 / 9780134013534 Child Development and Education, Enhanced Pearson eText with Loose-Leaf Version -- Access Card Package, 6/e
Package consists of:
0133549690 / 9780133549690 Child Development and Education, Loose-Leaf Version
0133551547 / 9780133551549 Child Development and Education, Enhanced Pearson eText -- Access Card
Alternate Ordering Options
Child Development and Education
is also available with MyEducationLab, either standalone or packaged with a loose-leaf version.
Loose-leaf Version + MyEducationLab Access Card: 0134229509 / 9780134229508 Child Development and Education with MyEducationLab with Enhanced Pearson eText, Loose-Leaf Version -- Access Card Package, 6/e
MyEducationLab Access Card only: 0134253876 / 9780134253879 MyEducationLab with Pearson eText -- Access Card -- for Child Development and Education
About the Author
---
Teresa M. McDevitt is a psychologist with specializations in child development and educational psychology. She received a Ph.D. and M.A. in child development from Stanford University's Psychological Studies in Education program, an Ed.S. in educational evaluation from Stanford University and a B.A. in psychology from the University of California, Santa Cruz. Since 1985 she has served the University of Northern Colorado in a variety of capacities--in teaching courses in child and adolescent psychology, human development, educational psychology, program evaluation, and research methods; in advisement of graduate students; in administration and university governance; and in research and grant writing. Her research interests include children's listening and communication skills, families, teacher education, and science education. She has published articles in such journals as Child Development, Learning and Individual Differences, Child Study Journal, Merrill-Palmer Quarterly, Youth and Society, and Science Education, among others. She has gained extensive practical experience with children, including raising two children with her husband and working in several capacities with children--as an early childhood teacher of toddlers and preschool children, an early childhood special education teacher, a scout leader, and a volunteer in school and community settings. When she has the chance, Teresa enjoys traveling internationally with her family, and spending time with her children and husband. Jeanne Ellis Ormrod holds a B.A. degree in psychology from Brown University and M.S. and Ph.D. degrees in educational psychology from The Pennsylvania State University. For more than twenty years she was a faculty member at the University of Northern Colorado, where she taught courses in learning and cognition, educational psychology, measurement, and research methods; she is currently Professor Emerita of Psychological Sciences at UNC. Dr. Ormrod has published numerous research articles but is probably best known for this book and several other textbooks: Human Learning (7th ed., 2016); Educational Psychology: Developing Learners (8th ed., 2014); Essentials of Educational Psychology (4th ed., 2015); and Our Minds, Our Memories: Enhancing Thinking and Learning at All Ages (2011).