The Portable Thoreau (Mass Market Paperback)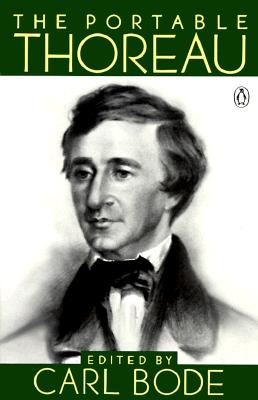 $20.00
Special Order - may be out of print
Description
---
Henry David Thoreau dedicated his life to preserving his freedom as a man and an artist. Nature was the fountainhead of his inspiration and his refuge from what he considered the follies of society. Heedless of his friends' advice to live in a more orthodox manner, he determinedly pursued his own inner bent, which was that of a poet-philosopher, in prose and verse.
Carl Bode brings together the best of Thoreau's works in The Portable Thoreau, a comprehensive collection of the writings of a unique and profoundly influential American thinker. The complete texts of Thoreau's classic works Walden and "Civil Disobedience," as well as selections from The Maine Woods, Cape Cod, the Journal, and eighteen poems are included. Bode's introduction rounds out this compact volume, offering a thorough and informative analysis of Thoreau and the forces that shaped his life and writing.
"This compact book, containing infinite riches in a little room, is a simple setting for sound sense, nugget-like thought, the refined essences of a point of view"
— St. Louis Post-Dispatch
About the Author
---
Henry David Thoreau was born in Concord, Massachusetts in 1817. He graduated from Harvard in 1837, the same year he began his lifelong Journal. Inspired by Ralph Waldo Emerson, Thoreau became a key member of the Transcendentalist movement that included Margaret Fuller and Bronson Alcott. The Transcendentalists' faith in nature was tested by Thoreau between 1845 and 1847 when he lived for twenty-six months in a homemade hut at Walden Pond. While living at Walden, Thoreau worked on the two books published during his lifetime: Walden (1854) and A Week on the Concord and Merrimack Rivers (1849). Several of his other works, including The Maine Woods, Cape Cod, and Excursions, were published posthumously. Thoreau died in Concord, at the age of forty-four, in 1862.

Carl Bode, professor emeritus of English/American Studies at the University of Maryland, is a freelance writer. Founder and first president of the American Studies Assocation, he is also past president of he Popular Culture Association and the Mencken Society. His books include The American Lyceum, Antebellum Culture, and Mencken. He has edited Collected Poems of Henry Thoreau and The Best of Thoreau's Journals; and has co-edited The Correspondence of Henry David Thoreau and, in collaboration with Malcolm Cowley, The Portable Emerson.