The Rape of the Lock and Other Major Writings (Paperback)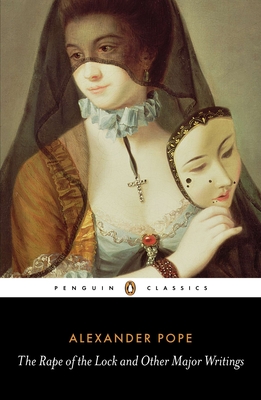 Description
---
The Rape of the Lock and Other Major Writings is a collection of Alexander Pope's greatest works, edited with an introduction by Leo Damrosch in Penguin Classics. Alexander Pope was the greatest English poet of his age, whose acerbic insights into human nature have entered the language, and whose verse still astonishes with its energy and inventiveness centuries after his death. This new selection of Pope's work follows the path of his poetic genius over his lifetime. It contains early poems including the masterly mock-epic 'The Rape of the Lock', which satirizes a notorious society scandal through glorious heroic couplets, the brilliantly aphoristic 'An Essay on Criticism' and excerpts from his translation of the Iliad. Later poems represented include Pope's ironic adaptations of Horace's Epistles, Satires and Odes, and the remarkable 'Dunciad', a stinging attack on his literary rivals and the mediocrity of Grub Street hacks. Here too are selected prose works and letters from Pope to his contemporaries such as John Gay and Jonathan Swift.

This edition contains a wide-ranging introduction that elucidates Pope's life, poetic art and contemporary contexts, as well as separate introductions to each piece, a chronology, further reading, a biography and extensive notes. 

For more than seventy years, Penguin has been the leading publisher of classic literature in the English-speaking world. With more than 1,700 titles, Penguin Classics represents a global bookshelf of the best works throughout history and across genres and disciplines. Readers trust the series to provide authoritative texts enhanced by introductions and notes by distinguished scholars and contemporary authors, as well as up-to-date translations by award-winning translators.
About the Author
---
Alexander Pope was born in 1688 in London, England. His father, a linen merchant, moved his family to Binfield in Windsor Forest after the Glorious Revolution of 1688, where Pope received little schooling, educating himself largely through reading. At the age of twelve, Pope contracted a tubercular infection, never growing taller than four feet, six inches, and suffered from curvature of the spine and constant headaches. He came to public notice on the publication of "Pastorals" in Jacob Tonson's Miscellany (1709), Essay on Criticism (1711), and gained much notoriety and acclaim for The Rape of the Lock (1712). By 1713, Pope had befriended Jonathan Swift, John Gay, Thomas Parnell, and Dr. John Arbuthnot, and together they formed the "Scriblerus Club" which indirectly contributed to such works as Swift's Gulliver's Travels and Pope's own Dunciad (1728), as well as the Memoirs of Martinus Scriblerus (1741). Pope's translation of the Iliad (1715-1720) and the Odyssey (1725-1726) earned him financial success, as well as critical praise. Working jointly with Swift, they published Miscellanies (1727-1732), an obvious parody of writers, which was ill received. Pope answered again with a personal satire, the famous Dunciad. He attempted a survey of human nature, completing Essay on Man (1733), and Mortal Essays both reminiscent of the satire for which Pope had become so famous. Imitations of Horace (1733-1738) a parody of the contemporary social and political scene, and his "pirated" letters, which he had devised to be published, would be his last works. Pope died in 1744 and was buried in Twickenham Church. He left the epic verse Brutus incomplete.