The Joke and Its Relation to the Unconscious (Paperback)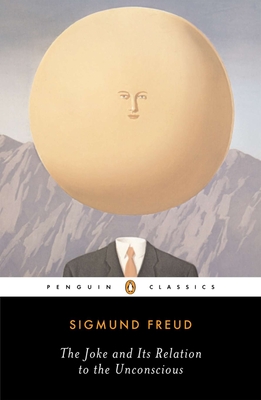 $18.00

Special Order - may be out of print
Description
---
Why do we laugh? The answer, argued Freud in this groundbreaking study of humor, is that jokes, like dreams, satisfy our unconscious desires. The Joke and Its Relation to the Unconscious explains how jokes provide immense pleasure by releasing us from our inhibitions and allowing us to express sexual, aggressive, playful, or cynical instincts that would otherwise remain hidden. In elaborating this theory, Freud brings together a rich collection of puns, witticisms, one-liners, and anecdotes, which, as Freud shows, are a method of giving ourselves away.

For more than seventy years, Penguin has been the leading publisher of classic literature in the English-speaking world. With more than 1,700 titles, Penguin Classics represents a global bookshelf of the best works throughout history and across genres and disciplines. Readers trust the series to provide authoritative texts enhanced by introductions and notes by distinguished scholars and contemporary authors, as well as up-to-date translations by award-winning translators.
About the Author
---
Sigmund Freud (1856-1939) was born in Moravia and lived in Vienna between the ages of four and eighty-two. In 1938 Hitler's invasion of Austria forced him to seek asylum in London, where he died the following year. Freud's career began with several years of brilliant work on the anatomy and physiology of the nervous system. He was almost thirty when, after a period of study under Charcot in Paris, his interests first turned to psychology, and another ten years of clinical work in Vienna (at first in collaboration with Breuer, an older colleague) saw the birth of his creation: psychoanalysis. This began simply as a method of treating neurotic patients by investigating their minds, but it quickly grew into an accumulation of knowledge about the workings of the mind in general, whether sick or healthy. Freud was thus able to demonstrate the normal development of the sexual instinct in childhood and, largely on the basis of an examination of dreams, arrived at his fundamental discovery of the unconscious forces that influence our everyday thoughts and actions. Freud's life was uneventful, but his ideas have shaped not only many specialist disciplines, but the whole intellectual climate of the last half-century.

Joyce Crick was for many years a senior lecturer in German at University College London. In 2000, she was awarded the Schlegel Tieck Prize for her translation of Freud's The Interpretation of Dreams for Oxford University Press.

John Carey is an emeritus professor of English at Oxford, a fellow of the British Academy, and chief book reviewer for the London Sunday Times.