Summer of Blood: England's First Revolution (Paperback)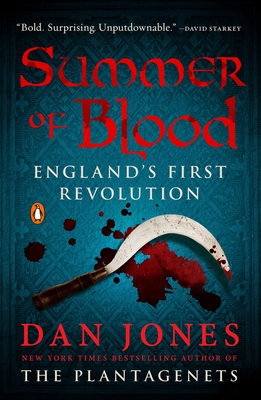 $18.00

usually available in 3-7 days
Description
---
From the New York Times bestselling author of Crusaders and a top authority on the historical events that inspired Game of Thrones, a vivid, blood-soaked account of one of the most famous rebellions in history—the first mass uprising by the people of England against their feudal masters.
 
In the summer of 1381, ravaged by poverty and oppressed by taxes, the people of England rose up and demanded that their voices be heard. A ragtag army, led by the mysteri­ous Wat Tyler and the visionary preacher John Ball, rose up against the fourteen-year-old Richard II and his most powerful lords and knights, who risked their property and their lives in a desperate battle to save the English crown. Dan Jones brings this incendiary moment to life and captures both the idealism and brutality of that fate­ful summer, when a brave group of men and women dared to challenge their overlords, demand that they be treated equally, and fight for freedom.
About the Author
---
Dan Jones is the author of The Plantagenets: The Warrior Kings and Queen Who Made England, a #1 international bestseller and New York Times bestseller, and Wars of the Roses, which charts the story of the fall of the Plantagenet dynasty and the improbable rise of the Tudors. He writes and presents the popular Netflix series Secrets of Great British Castles and appeared alongside George R.R. Martin in the official HBO film exploring the real history behind Game of Thrones. He is also the author of Magna Carta: The Birth of Liberty and is currently working on a history of the Knights Templar due out in September 2017.
Praise For…
---
Praise for Summer of Blood:
 
"Hot, brave and reeking with gore." —The Times (London)
 
"Sound scholarship and sexy writing make this . . . essential reading." —The Independent (London), Book of the Year
 
Praise for The Plantagenets:
 
"A real life Game of Thrones, as dramatic and blood-soaked as any work of fantasy . . . Fast-paced and accessible, The Plantagenets is old-fashioned storytelling and will be particularly appreciated by those who like their history red in tooth and claw." —The Wall Street Journal