The Oxford Handbook of Personality and Social Psychology (Hardcover)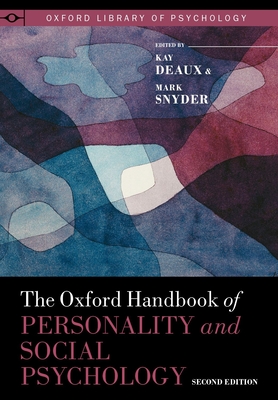 $225.00
Special Order - may be out of print
Description
---
The second edition of The Oxford Handbook of Personality and Social Psychology beautifully captures the history, current status, and future prospects of personality and social psychology. Building on the successes and strengths of the first edition, this second edition of the Handbook combines
the two fields of personality and social psychology into a single, integrated volume, offering readers a unique and generative agenda for psychology. Over their history, personality and social psychology have had varying relationships with each other-sometimes highly overlapping and intertwined, other times contrasting and competing. Edited by Kay Deaux and Mark Snyder, this Handbook is dedicated to the proposition that personality and social
psychology are best viewed in conjunction with one another and that the synergy to be gained from considering links between the two fields can do much to move both areas of research forward in order to better enrich our collective understanding of human nature. Contributors to this Handbook not only offer readers fascinating examples of work that cross the boundaries of personality and social psychology, but present their work in such a way that thinks deeply about the ways in which a unified social-personality perspective can provide us with a greater
understanding of the phenomena that concern psychological investigators. The chapters of this Handbook effortlessly weave together work from both disciplines, not only in areas of longstanding concern, but also in newly emerging fields of inquiry, addressing both distinctive contributions and common
ground. In so doing, they offer compelling evidence for the power and the potential of an integrated approach to personality and social psychology today.

About the Author
---
Kay Deaux is Distinguished Professor Emerita at the Graduate Center of the City University of New York and a Visiting Research Scholar at New York University. Topics of scholarly interest include social identity, gender, and immigration. She is the author of several books, including To Be anImmigrant. She has served as president of the Society for Personality and Social Psychology and of the Association for Psychological Science. Mark Snyder is Professor of Psychology at the University of Minnesota, where he holds the McKnight Presidential Chair in Psychology and is the Director of the Center for the Study of the Individual and Society. His research interests focus on the interplay of personality, motivation, and socialbehavior. He is the author of the book, Public Appearances/Private Realities: The Psychology of Self-Monitoring. He has served as President of the Society for Personality and Social Psychology and of the Foundation for Personality and Social Psychology.