Guide to the Birds of China (Hardcover)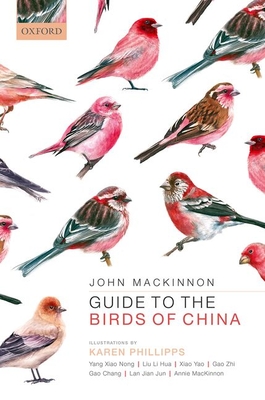 $100.00

usually available in 3-7 days
Description
---
China covers about 7% of the earth's land surface and encompasses a hugely diverse range of habitats. As a result, it boasts a rich and diverse avifauna, including some of the most spectacular and fascinating birds to be found anywhere in the world. Building on the enormous popularity and reputation of the original A Field Guide to the Birds of China (2000), John MacKinnon's fully updated and refreshed work remains a truly comprehensive, taxonomically modern, fully illustrated, and authoritative field guide. 1484 bird species are richly
illustrated in 164 annotated colour plates, which are closely integrated with up-to-date colour distribution maps, QR codes providing easy access to birdcalls, IUCN Red List status indicators and new, concise descriptions. These descriptions feature key observations as well as conveying crucial
changes to species distributions resulting from climate change and landscape transformation. Guide to the Birds of China will appeal to an international and growing audience of professional and amateur ornithologists and birding enthusiasts, academic researchers and students, wildlife photographers, and conservationists.

About the Author
---
John MacKinnon, Honorary Professor (Retired), Durrell Institute of Conservation and Ecology, University of Kent in Canterbury, UK John MacKinnon is an honorary Professor at the Durrell Institute of Conservation and Ecology at the University of Kent in Canterbury, UK. He has spent many years in China working on a variety of conservation projects for WWF, World Bank, European Union, and UNDP. He has written many papers, reportsand several books on Chinese biodiversity plus several books on Asian birds. John's interests range into mammals and butterflies, photography and film-making. His wife Lu Hefen (Monica) has helped widely in translation and organization of the production and his daughter Annie is an artist who hasprovided several plates for the book. The late Karen Phillipps (1948-2020) was born in SE Asia and had a long track record of illustrating books on birds, mammals, and even plants of China and SE Asia. Her interpretations of wildlife are much loved and encouraged and inspired so many readers to become actively involved in appreciatingand watching their local fauna. More than 1000 of Karen's paintings are featured in this book. Additional artwork has been provided by a total of seven new artists for this book. Yang Xiao Nong has painted the difficult leaf warblers, harriers, and some thrushes; Liu Li Hua has tackled some of the tricky wren babblers and warblers; Xiao Yao has contributed the rosefinches and Yuhinas with GaoZhi; Gao Chang completed many gap species in several families; Lan Jian Jun contributed many water-birds and shorebirds whilst Annie MacKinnon added new woodpeckers, bulbuls and tits.