Dance Anecdotes: Stories from the Worlds of Ballet, Broadway, the Ballroom, and Modern Dance (Paperback)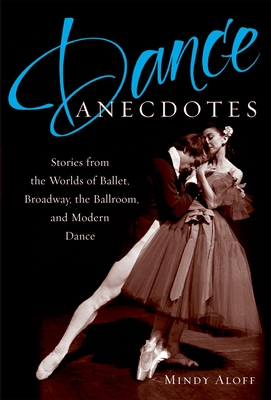 $16.95

usually available in 3-5 business days
(This is a special order book which cannot be returned.)
Description
---
Mindy Aloff, a leading dance critic who has written for The Nation, The New Republic, and The New Yorker, has brought together here a marvelous book of stories by and about dancers--entertaining and informative anecdotes that capture the boundless variety and richness of dance as an art, a tradition, a profession, a pastime, an obsession, a reality, and, for the dancer, an ideal.
George Balanchine is here, and so are Fred Astaire, Margot Fonteyn, Rudolf Nureyev, Savion Glover, Martha Graham, and Lola Montez, and also stars from other arts--such as Akira Kurosawa and Bob Dylan--who have spoken about dancing with wit or illumination. There are stories about Irene and Vernon Castle, Cyd Charisse and Gene Kelly, Bob Fosse and Gwen Verdon, Paul Taylor and Mark Morris. We read about the charisma and spontaneity of Anna Pavlova, about the secret to Vaslav Nijinsky's success ("I worked like an ox and I lived like a martyr"), about George Balanchine racing to a union dispute with a bag of dimes. Many of the stories are amusing, but some are rueful, even sad, and a few are dark. Aloff concludes the volume with an essay about how dancing has been able to record its past, sometimes over centuries, and about how the art of the dancer, apparently as ephemeral in performance as cloud patterns, turns out, when conditions are hospitable, to be much more hardy and
resilient than many people suppose.
A glorious promenade of stories that stretch as far back as classical times and as far afield as Japan, India, and Java, this superb collection will be treasured by everyone who loves dance, whether young or old.

About the Author
---
Mindy Aloff teaches dance criticism and essay writing at Barnard College and the Eugene Lang College of The New School. Her work has appeared in The New York Times, The New Yorker, and many other publications in the United States, Europe, and Asia. She writes the "Letter from New York" column for The Dance View Times (www.danceviewtimes.com), edits the Dance Critics Association Newsletter, and consults for The George Balanchine Foundation. She lives in New York City.