Laughter and Power in the Twelfth Century (Hardcover)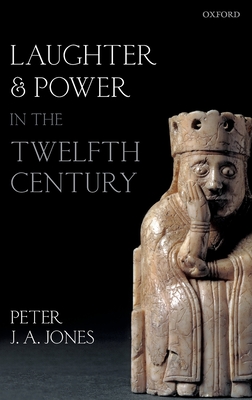 $85.00

Special Order - may be out of print
Description
---
Towards the end of the twelfth century, powerful images of laughing kings and saints began to appear in texts circulating at the English royal court. At the same time, contemporaries began celebrating the wit, humour, and laughter of King Henry II (r.1154-89) and his martyred Archbishop of
Canterbury, Saint Thomas Becket (d.1170). Taking a broad genealogical approach, Laughter and Power in the Twelfth Century traces the emergence of this powerful laughter through an immersive study of medieval intellectual, literary, social, religious, and political debates. Focusing on a cultural
renaissance in England, the study situates laughter at the heart of the defining transformations of the second half of the 1100s. With an expansive survey of theological and literary texts, bringing a range of unedited manuscript material to light in the process, Peter J. A. Jones exposes how
twelfth-century writers came to connect laughter with spiritual transcendence and justice, and how this connection gave humour a unique political and spiritual power in both text and action. Ultimately, Jones argues that England's popular images of laughing kings and saints effectively reinstated a
sublime charismatic authority, something truly rebellious at a moment in history when bureaucracy and codification were first coming to dominate European political life.

About the Author
---
Peter J. A. Jones, Lecturer in cultural history, University of Tyumen, School of Advanced Studies Peter J. A. Jones is a researcher at the School of Advanced Studies at the University of Tyumen in Siberia. Previously he has worked as a teaching fellow in the History Department at University College London, as an Andrew W. Mellon Postdoctoral Fellow at the Jackman Humanities Institute, Universityof Toronto, as a visiting scholar at the Pembroke Center, Brown University, and as a Frances A. Yates Postdoctoral Fellow at the Warburg Institute. As well as his work on medieval laughter and humour, Jones is currently developing two new projects. His next book, Democratic Dreams in Medieval Europe, is an investigation of the theological foundations of republican and democratic thought in the 1100s. He is also currently working on amultidisciplinary collaborative project, A History of Loving Things, which traces a history of loving relations between humans and nonhumans from Medieval Europe to the present day, via Imperial Russia and Oscar Wilde's Ireland.