Politics and the Urban Sector in Fifteenth-Century England, 1413-1471 (Oxford Historical Monographs) (Hardcover)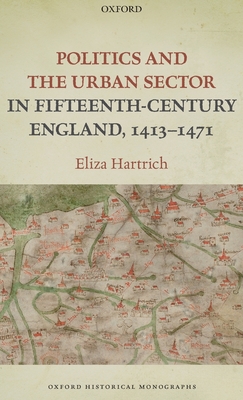 $85.00

usually available in 3-7 days
Description
---
Since the mid-twentieth century, political histories of late medieval England have focused almost exclusively on the relationship between the Crown and aristocratic landholders. Such studies, however, neglect to consider that England after the Black Death was an urbanising society. Towns not
only were the residence of a rising proportion of the population, but were also the stages on which power was asserted and the places where financial and military resources were concentrated. Outside London, however, most English towns were small compared to those found in contemporary Italy or
Flanders, and it has been easy for historians to under-estimate their ability to influence English politics. Politics and the Urban Sector in Fifteenth-Century England, 1413-1471 offers a new approach for evaluating the role of urban society in late medieval English politics. Rather than focusing on English towns individually, it creates a model for assessing the political might that could be exerted by
towns collectively as an 'urban sector'. Based on primary sources from twenty-two towns (ranging from the metropolis of London to the tiny Kentish town of Lydd), Politics and the Urban Sector demonstrates how fluctuations in inter-urban relationships affected the content, pace, and language of
English politics during the tumultuous fifteenth century. In particular, the volume presents a new interpretation of the Wars of the Roses, in which the relative strength of the 'urban sector' determined the success of kings and their challengers and moulded the content of the political programmes
they advocated.

About the Author
---
Eliza Hartrich, Lecturer in Late Medieval History, University of East Anglia Eliza Hartrich joined the University of East Anglia in 2019 as a Lecturer in Late Medieval History. Prior to that, she was a Scouloudi Doctoral Fellow at the Institute of Historical Research, a Fellow-by-Examination (JRF) at Magdalen College, Oxford, and a lecturer at the University of Sheffield.She has published widely on urban history in late medieval England, with a particular focus on urban networks, rebellion, and councils. Her work has appeared in publications such as the English Historical Review and Proceedings of the British Academy. Her current project addresses the role ofurban networks in the medieval 'English empire' in Ireland, Wales, and France.