Typographies of Performance in Early Modern England (Hardcover)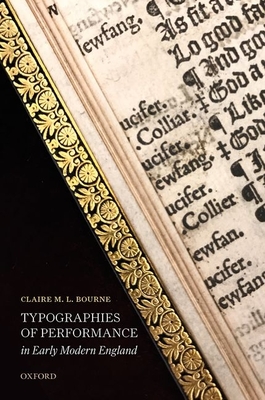 $90.00

usually available in 3-7 days
Description
---
Typographies of Performance in Early Modern England is the first book-length study of early modern English playbook typography. It tells a new history of drama from the period by considering the page designs of plays by Shakespeare and others printed between the end of the fifteenth century
and the beginning of the eighteenth century. It argues that typography, broadly conceived, was used creatively by printers, publishers, playwrights, and other agents of the book trade to make the effects of theatricality--from the most basic (textually articulating a change in speaker) to the more
complex (registering the kinesis of bodies on stage)--intelligible on the page. The coalescence of these experiments into a uniquely dramatic typography that was constantly responsive to performance effects made it possible for 'plays' to be marketed, collected, and read in the sixteenth and seventeenth centuries as a print genre distinct from all other genres of imaginative
writing. It has been said, 'If a play is a book, it is not a play.' Typographies of Performance in Early Modern England shows that 'play' and 'book' were, in fact, mutually constitutive: it was the very bookishness of plays printed in early modern England that allowed them to be recognized by their
earliest readers as plays in the first place.

About the Author
---
Claire M. L. Bourne, Assistant Professor of English, Pennsylvania State University Claire M. L. Bourne is Assistant Professor of English at the Pennsylvania State University. Her research focuses on early modern drama, the history of the book, and theatre history. She has published in journals such as English Literary Renaissance and Papers of the Bibliographical Society ofAmerica and has contributed essays about early modern textual production and reception to a number of edited collections. She is editor of Henry the Sixth, Part 1, for The Arden Shakespeare, 4th series, and is general editor of the Digital Beaumont and Fletcher (1647), an open-accessstudent-generated edition of the Beaumont and Fletcher folio.