Into the Desert: Reflections on the Gulf War (Hardcover)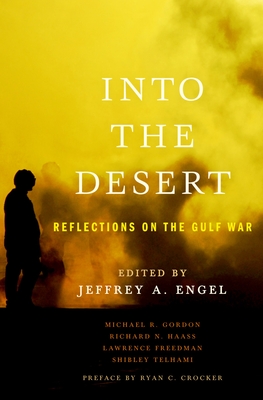 $41.95

Special Order - may be out of print
Description
---
In the decade following the first Gulf War, most observers regarded it as an exemplary effort by the international community to lawfully and forcefully hold a regional aggressor in check. Interpretations have changed with the times. The Gulf War led to the stationing of US troops in Saudi
Arabia, an important contributing cause of the 9/11 attacks. The war also led to a long obsession with Saddam Hussein that culminated in a second, far longer, American-led war with Iraq. In Into the Desert, historian Jeffrey Engel has gathered an all-star cast of contributors to reevaluate the first Gulf War: Michael Gordon of the New York Times; Sir Lawrence Freedman, former foreign policy advisor to Tony Blair; American Ambassador to Iraq and Afghanistan Ryan Crocker; Middle East
specialist Shibley Telhami; and Richard Haass, President of the Council on Foreign Relations. Engel and his contributors examine the war's origins, the war itself, its impact within the Arab world, and its long-term impact on military affairs and international relations. All told, Into the Desert
offers an astute reassessment of one of the most momentous events in the last quarter century.

About the Author
---
Jeffrey A. Engel directs the Center for Presidential History at Southern Methodist University. The author and editor of six books on American foreign policy, his works include The Fall of the Berlin Wall, Cold War at 30,000 Feet, and The China Diary of George H.W. Bush.