Thinking Out of Sight: Writings on the Arts of the Visible (The France Chicago Collection) (Hardcover)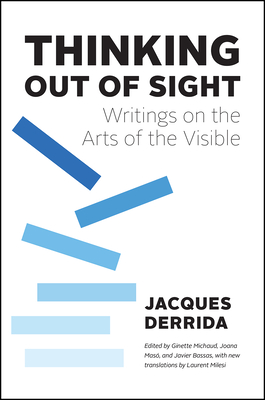 $45.00

Backordered - OK to 'add to cart' and we'll let you know when your copy is here
Description
---
Jacques Derrida remains a leading voice of philosophy, his works still resonating today—and for more than three decades, one of the main sites of Derridean deconstruction has been the arts. Collecting nineteen texts spanning from 1979 to 2004, Thinking out of Sight brings to light Derrida's most inventive ideas about the making of visual artworks.

The book is divided into three sections. The first demonstrates Derrida's preoccupation with visibility, image, and space. The second contains interviews and collaborations with artists on topics ranging from the politics of color to the components of painting. Finally, the book delves into Derrida's writings on photography, video, cinema, and theater, ending with a text published just before his death about his complex relationship to his own image. With many texts appearing for the first time in English, Thinking out of Sight helps us better understand the critique of representation and visibility throughout Derrida's work, and, most importantly, to assess the significance of his insights about art and its commentary.
About the Author
---
Jacques Derrida
(1930–2004) was director of studies at the École des hautes études en sciences sociales, Paris, and professor of humanities at the University of California, Irvine. Several of his books have been published in their English translation by the University of Chicago Press.
Joana Masó
teaches French literature and composition at the University of Barcelona.
Ginette Michaud
is professor in the Département des littératures de langue française at the Université de Montréal.
Javier Bassas
teaches translation theory at the University of Barcelona.
Laurent Milesi is a reader in literature and critical theory at Cardiff University. He has also translated Cixous's Philippines and Zero's Neighbour: Sam Beckett, among other books.
Praise For…
---
"Who other than Jacques Derrida could have demonstrated with this degree of insight and lucidity the essential relationship between the visual arts and invisibility, nonappearance, absence, the night, blindness, even death? This superb collection of essays on painting, drawing, photography, video, cinema, and theater will forever transform both the way we understand Derrida and the way we look at the visual arts."
— Michael Naas, DePaul University

"This wonderful collection brings together several of Derrida's most beautiful and wildly engaging thoughts on the visual and performing arts. Many of the essays, lectures, and interviews are presented here for the first time in English, and others are even published for the first time anywhere. Together, not only do they delineate the relations among drawing, painting, photography, film, theater, and writing, but they also suggest that the arts are never just art; they are different modes of thinking and writing. This collection offers an exquisitely rich introduction to Derrida's singular contribution to the arts of reading and thinking."
— Eduardo L. Cadava, Princeton University

"This wide-ranging collection of essays, lectures, and interviews, shows philosopher Jacques Derrida (Acts of Religion) (1930–2004) applying his signature deconstructionist thinking to the visual arts...Philosophically minded readers will find much to consider in the way of art criticism."
— Publisher's Weekly