Between Mao and McCarthy: Chinese American Politics in the Cold War Years (Hardcover)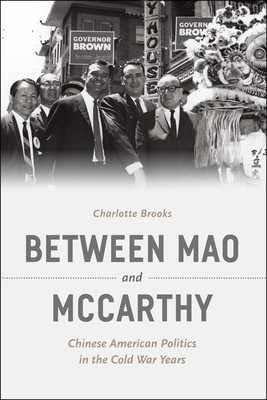 Description
---
During the Cold War, Chinese Americans struggled to gain political influence in the United States. Considered potentially sympathetic to communism, their communities attracted substantial public and government scrutiny, particularly in San Francisco and New York.

Between Mao and McCarthy looks at the divergent ways that Chinese Americans in these two cities balanced domestic and international pressures during the tense Cold War era. On both coasts, Chinese Americans sought to gain political power and defend their civil rights, yet only the San Franciscans succeeded. Forging multiracial coalitions and encouraging voting and moderate activism, they avoided the deep divisions and factionalism that consumed their counterparts in New York. Drawing on extensive research in both Chinese- and English-language sources, Charlotte Brooks uncovers the complex, diverse, and surprisingly vibrant politics of an ethnic group trying to find its voice and flex its political muscle in Cold War America.
About the Author
---
Charlotte Brooks is associate professor of history at Baruch College, City University of New York. She is the author of Alien Neighbors, Foreign Friends: Asian Americans, Housing, and the Transformation of Urban California also published by the University of Chicago Press. 
Praise For…
---
"Between Mao and McCarthy opens new ground in the study of Chinese American politics. Recovering a lost history with contemporary significance, Brooks's energetically researched study returns a host of once prominent personalities and organizations to their place as political pioneers. Chinese American politics were at the same time local, national, and international, as well as ethnic, ideological, and partisan. Brooks's richly textured account is an original and important contribution."
— Gordon Chang

"With the support of extensive and prodigious research, Brooks has written a path-breaking book that articulately explores the complicated relationship between, on the one hand, changing racial politics in general and the experience of Chinese-American communities in particular in the 1950s and 1960s and, on the other, the deeply politicized pressures of the Cold War environment. Between Mao and McCarthy is highly revealing and, therefore, highly recommended."
— Chen Jian

"Drawing upon prodigious research, Between Mao and McCarthy remakes the possibilities of Chinese American civic participation and pushes back to the 1930s the kinds of political activism and claims once associated only with the civil rights movement. An impressively nuanced account of a complex and perplexing era."
— Madeline Y. Hsu

"Between Mao and McCarthy is an enlightening and engaging political history of Chinese Americans from the Depression Era to the Civil Rights Movement. Brooks's comfort and ease in moving back and forth between languages makes for an especially compelling narrative, as she deftly unearths the moments when newspapers, advertisements, or historical actors purposely provided divergent messages or translations. She culls evidence from archives as variegated and far-flung as the Bancroft Library, the British Foreign Office on China, Congressional records, the Kennedy and Truman Libraries, the Hoover Institution, and various community association holdings. The reader is rarely left wondering whether or not the author may have missed an unturned stone here or there."
— Matthew Briones

"Between Mao and McCarthy is an impressive scholarly tome on the evolution of Chinese American politics in the years after World War II. . . . Brooks' inclusion of the prominent voices in community newspapers and her detailed information about the power players within New York and San Francisco lend an insider's view on a turbulent time for Chinese American communities. . . Well worth a read."
— 8Asians

"Brooks continues her examination of transnationalism and Asian America with this impressive study of the interaction between China and Chinese-American politics. In this work, she considers how Chinese Americans came to shift their attention from China to the US, gradually shedding their psychological dependence on their ancestral country. . . . This book expands the understanding of transnationalism while also delivering another blow to the myth that Asian Americans were politically passive prior to the 1960s. Recommended."
— Choice

"With sharp focus on the Chinese American communities in San Francisco and New York City, Between Mao and McCarthy presents an insightful investigation on the transfor­mation of Chinese American politics in the mid-twentieth century. . . . Brooks's examination of the transforma­tion of Chinese American politics is provoca­tive and pathbreaking. . . . It shines brilliantly as a major addition to the study of Chinese American politics during the Cold War."
— Journal of American History