Sources of Japanese Tradition, Abridged: 1600 to 2000; Part 2: 1868 to 2000 (Introduction to Asian Civilizations #2) (Abridged / Paperback)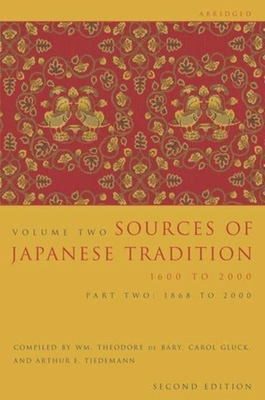 Other Books in Series
This is book number 2 in the Introduction to Asian Civilizations series.
Description
---
For almost fifty years, Sources of Japanese Tradition has been the single most valuable collection of English-language readings on Japan. Unrivalled in its wide selection of source materials on history, society, politics, education, philosophy, and religion, the two-volume textbook is a crucial resource for students, scholars, and readers seeking an introduction to Japanese civilization. Originally published in a single hardcover book, Volume 2 is now available as an abridged, two-part paperback. Part 1 covers the Tokugawa period to 1868, including texts that address the spread of neo-Confucianism and Buddhism and the initial encounters of Japan and the West. Part 2 begins with the Meiji period and ends at the new millennium, shedding light on such major movements as the Enlightenment, constitutionalism, nationalism, socialism, and feminism, and the impact of the postwar occupation. Commentary by major scholars and comprehensive bibliographies and indexes are included. Together, these readings map out the development of modern Japanese civilization and illuminate the thought and teachings of its intellectual, political, and religious leaders.
About the Author
---
Wm. Theodore de Bary is John Mitchell Mason Professor Emeritus and Provost Emeritus at Columbia University, and Director of the Heyman Center for the Humanities. He has written extensively on Confucianism in East Asia, and is coeditor of the first edition of Sources of Chinese Tradition, as well as Sources of Japanese Tradition and Sources of Korean Tradition. Richard Lufrano is assistant professor of Chinese history at the College of Staten Island and the author of Honorable Merchants: Commerce and Self-Cultivation in Late Imperial China.