The Microeconomic Mode: Political Subjectivity in Contemporary Popular Aesthetics (Paperback)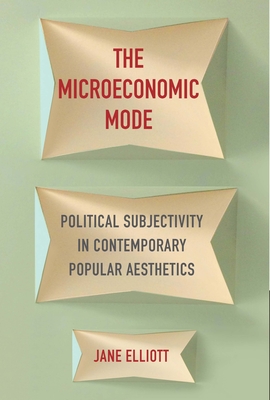 Email or call for price.
usually available in 3-7 days
Description
---
From The Road to Game of Thrones, across works as seemingly different as Gone Girl and Saw, literature, film, and television have become obsessed with the intersection of survival and choice. When the trapped rock-climber hero of 127 Hours is confronted with self-amputation or death, it is only a particularly blunt example of an omnipresent set-up. In real-life settings or fantastical games, protagonists find themselves confronting extreme scenarios with life-or-death consequences, forced to make torturous either-or choices in stripped-down, brutally stark environments. Jane Elliott identifies and analyzes this new and distinctive aesthetic phenomenon, which she calls "the microeconomic mode." Through close readings of its narratives, tropes, and concepts, she traces the implicit theoretical and political claims conveyed by this combination of abstraction and extremity. In the microeconomic mode, humans isolated from any forms of social organization operate within a mini-economy of costs and benefits, gains and losses, measured in the currency of life. Elliott reads the key concepts that emerge from this aesthetic--life-interest, sovereign capture, and binary life--in relation to biopolitics and natural law theory, becoming and the control society, and primitive accumulation in racial capitalism. The microeconomic mode interrogates the destruction of the liberal political subject, but what it leaves in its place is as disturbing as it is radically new. Going beyond the question of neoliberalism in literature, The Microeconomic Mode combines revelatory close readings of key literary and popular texts with significant theoretical interventions to identify how an aesthetics of choice has reshaped our contemporary understanding of what it means to be human.
About the Author
---
Jane Elliott is senior lecturer in English at King's College London. She is the author of Popular Feminist Fiction as American Allegory: Representing National Time (2008) and coeditor of Theory After "Theory" (2011).