Ain't I a Woman? (Penguin Great Ideas) (Paperback)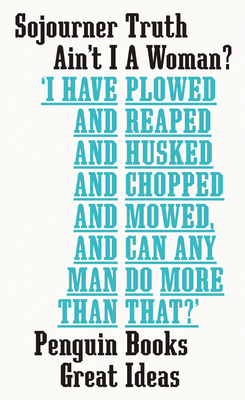 $13.00
Coming Soon - Available for Pre-Order Now
Description
---
A collection of Sojourner Truth's iconic words, including her famous speech at the 1851 Women's Rights Convention in Akron, Ohio

A former slave and one of the most powerful orators of her time, Sojourner Truth fought for the equal rights of black women throughout her life. This selection of her impassioned speeches is accompanied by the words of other inspiring African-American female campaigners from the nineteenth century.

Throughout history, some books have changed the world. They have transformed the way we see ourselves - and each other. They have inspired debate, dissent, war and revolution. They have enlightened, outraged, provoked and comforted. They have enriched lives--and upended them. Now Penguin brings you a new set of the acclaimed Great Ideas, a curated library of selections from the works of the great thinkers, pioneers, radicals and visionaries whose ideas shook civilization and helped make us who we are.
About the Author
---
Sojourner Truth (c.1797 - 1883) was born into slavery in New York State. In 1826, she escaped with her young daughter, leaving two of her other children behind. When her son was later illegally sold to a slave owner in Alabama she sued for his return, becoming one of the first black women to successfully challenge a white man in an American court. She spent the rest of her life campaigning for abolition, equal rights and universal suffrage, and found fame as a reformer and public speaker. Her memoir, The Narrative of Sojourner Truth, is published in Penguin Classics.