Why the New Deal Matters (Why X Matters Series) (Paperback)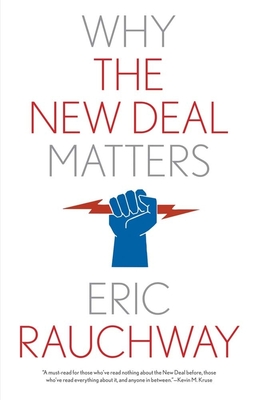 Description
---
A look at how the New Deal fundamentally changed American life, and why it remains relevant today

"A must-read for those who've read nothing about the New Deal before, those who've read everything about it, and anyone in between. With timeless prose and timely arguments, Why the New Deal Matters powerfully connects that era to our own."—Kevin M. Kruse, Princeton University

The greatest peaceable expression of common purpose in U.S. history, the New Deal altered Americans' relationship with politics, economics, and one another in ways that continue to resonate today. No matter where you look in America, there is likely a building or bridge built through New Deal initiatives. If you have taken out a small business loan backed by the federal government or drawn unemployment insurance, you can thank the New Deal. While certainly flawed in many aspects—the New Deal was implemented by a Democratic Party still beholden to the segregationist South for its majorities in Congress and the Electoral College—the New Deal functioned as a bulwark of American democracy in hard times. This book looks at how this legacy, both for good and ill, informs the current debates around governmental responses to crises.
About the Author
---
Eric Rauchway is Distinguished Professor of History at the University of California, Davis, and the author of Winter War: Hoover, Roosevelt, and the First Clash Over the New Deal, among other books.
Praise For…
---
"Rauchway . . . is one of the most learned and nimble analysts of the New Deal."—Michael Kazin, The Nation
 

"Rauchway's aim in this concise, eloquent book is not to provide a full accounting—other works are more comprehensive—but to immerse us in the New Deal, to take us on a tour of its impact and legacy with examples from across the country."—Max Harris, Times Literary Supplement

"Admirable . . . even seasoned scholars will find much to learn. Rauchway's discussion of the 'Indian New Deal' is particularly insightful."—Zachary D. Carter, American Prospect

"Why the New Deal Matters is an excellent book, weaving together serious historiographical scholarship with evocative and place-specific narratives that link the present with the past and point the way toward a possible future"—Jeffrey Isaac, Los Angeles Review of Books

"Why the New Deal Matters approaches the New Deal as a crucial moment of democratic renewal as opposed to being a culminating point of democratic development in the United States"—Richard Coughlin, American Political Thought

"Rauchway's book is crisp and approachable; yet efficiency is not achieved at the expense of good storytelling . . . this profound and profoundly timely book convincingly demonstrates that the New Deal does indeed matter"—Robert Chiles, New York History

"In his latest book, Why the New Deal Matters, historian and author Eric Rauchway, looks at how the New Deal's legacy, both for good and ill, informs the current debates around governmental responses to crises"—Interview, Boise State University Radio

"Rauchway's book is crisp and approachable; yet efficiency is not achieved at the expense of good storytelling . . . this profound and profoundly timely book convincingly demonstrates that the New Deal does indeed matter."—Robert Chiles, New York History
 

"An impressive and accomplished work by one of our master historians that sheds new light on the New Deal by offering some place-based perspectives on why it matters."—Lawrence B. Glickman, author of Free Enterprise: An American History

"The New Deal was America's response to the gravest economic and social crisis of the 20th century.  It now serves as a source of inspiration for how we should respond to the gravest crisis of the 21st.  There's no more fluent and informative a guide to that history than Eric Rauchway, and no one better to describe the capacity of government to transform America for the better."—Barry Eichengreen, University of California, Berkeley

"Eric Rauchway, one of the best historians ever to write about the New Deal, has crafted a work here that is a must-read for those who've read nothing about the New Deal before, those who've read everything about it, and anyone in between. With timeless prose and timely arguments, Why the New Deal Matters powerfully connects that era to our own."—Kevin M. Kruse, Princeton University