How to Talk Dirty and Influence People: An Autobiography (Paperback)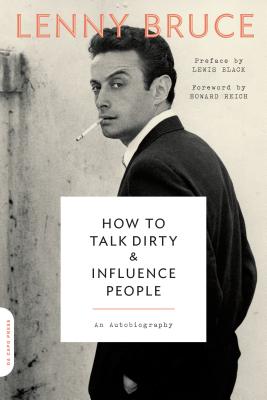 Description
---
During the course of a career that began in the late 1940s, Lenny Bruce challenged the sanctity of organized religion and other societal and political conventions; he widened the boundaries of free speech. Critic Ralph Gleason said, "So many taboos have been lifted and so many comics have rushed through the doors Lenny opened. He utterly changed the world of comedy."

Although Bruce died when he was only forty, his influence on the worlds of comedy, jazz, and satire are incalculable. How to Talk Dirty and Influence People remains a brilliant existential account of his life and the forces that made him the most important and controversial entertainer in history.
About the Author
---
Lenny Bruce (1925-1966) was a stand-up comedian, social critic, satirist, and screenwriter. His 1964 trial for obscenity (and posthumous pardon) is seen as a landmark for freedom of speech in the United States.
Praise For…
---
Praise for How to Talk Dirty and Influence People

"I read this book for the first time when I was twelve years old. It made me want to be in showbiz, have a lot of sex, and be Jewish. I've rethought that last one."—Penn Jillette, author of God No!

"If there was a God, then he sent down Lenny Bruce to create the art form of modern stand-up comedy. He sought the truth fearlessly and hilariously until his tragically muffled First Amendment rights surely enabled his dying for our sins."—Richard Lewis, author of The Other Great Depression

Playboy, 8/3/16
"Outside every American comedy club there ought to be a statue of Lenny Bruce—the type of big bronze statue that commemorates and immortalizes heroes…Bringing Bruce's ideas and stories to a new generation might just be the next best thing to erecting those bronze statues."

Spectrum Culture, 10/11/16
"Sheds light on the mind behind some of the most controversial comedy routines of the mid-20th century."