Mr g: A Novel About the Creation (Hardcover)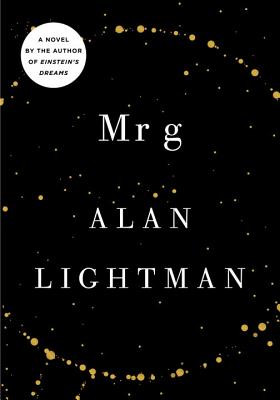 $24.95
Special Order - may be out of print
Description
---
"As I remember, I had just woken up from a nap when I decided to create the universe."
 
So begins Alan Lightman's playful and profound new novel, Mr g, the story of Creation as told by God. Barraged by the constant advisements and bickerings of Aunt Penelope and Uncle Deva, who live with their nephew in the shimmering Void, Mr g proceeds to create time, space, and matter. Then come stars, planets, animate matter, consciousness, and, finally, intelligent beings with moral dilemmas. Mr g is all powerful but not all knowing and does much of his invention by trial and error.

Even the best-laid plans can go awry, and Mr g discovers that with his creation of space and time come some unforeseen consequences—especially in the form of the mysterious Belhor, a clever and devious rival. An intellectual equal to Mr g, Belhor delights in provoking him: Belhor demands an explanation for the inexplicable, requests that the newly created intelligent creatures not be subject to rational laws, and maintains the necessity of evil. As Mr g watches his favorite universe grow into maturity, he begins to understand how the act of creation can change himself, the Creator.

With echoes of Calvino, Rushdie, and Saramago, combining science, theology, and moral philosophy, Mr g is a stunningly imaginative work that celebrates the tragic and joyous nature of existence on the grandest possible scale.
About the Author
---
Alan Lightman is the author of five previous novels, a book-length narrative poem, two collections of essays, and several books on science. His work has appeared in "The Atlantic, Granta, The New Yorker, The New York Review of Books, "and "Nature, " among other publications. A theoretical physicist as well as a novelist, he has served on the faculties of Harvard and MIT, and was the first person to receive a dual faculty appointment at MIT in science and in the humanities.
Praise For…
---
"A soulful riff on the birth and eventual demise of our universe…Lightman the humanist allows room for the compatibility of rationality with spirituality and mystery, while Lightman the scientist plays devil's advocate with the partisans of Genesis, blinding them with logic." –The New York Times Book Review

"Though Lightman's clever irreverence recalls Salman Rushdie and Kevin Brockmeier, his plainspoken style lends the book a fitting earnestness…Readers who don't mind the liberties the author takes with the sacred might enjoy this scienced fiction." –Library Journal

"A scientific vision laced with the mirthful aura of divinity…aglow with wonder." –Washington Post 

"Just as he did with his incomparable Einstein's Dreams, Alan Lightman again surprises us with a work that is utterly original in both form and content. Mr g is a philosophical fable which is at turns hilarious and moving, rendered with a literary hand so deft that the weightiest metaphysical topics levitate into pure delight." –Rebecca Newberger Goldstein
 
"It would not seem possible for Alan Lightman to match his earlier tour de force, Einstein's Dreams, but in Mr g he has done so—with wit, imagination, and transcendent beauty." –Anita Desai

"Here is the creation of the Universe and the young Creator who grapples with what he has made—and ultimately with responsibility and loss…a gem of a novel that is strange witty erudite and alive with Lightman's playful genius." –Junot Díaz, author of The Brief Wondrous Life of Oscar Wao

"The beautiful writing throughout this little gem of a book is an Alan Lightman trademark…delightful." –Washington Times 

"This delightful novel takes the reader on a light hearted romp through the development of the universe from the Big Bang to its cold dark end, addressing along the way some of the big questions that inevitably arise from the development of intelligent life." –Jerome Friedman, Nobel Prize-winning physicist 

"It is a delightful, sensual mixture of the mundane and—and sometimes it's not clear which is which. It conveys the spirit, the ethos of modern physical thought, without saying explicitly that it is doing so (until the very end). It deals powerfully with some of the deepest issues of existence, ethics, and the human condition. I think I've never read a more compelling description of the beauty of the universe. Its irreverent awe is powerful. I loved it!" –Kip Thorne, author of Black Holes and Time Warps  

"A touching, imaginative rendition of God's creation of the universe…the immortal characters are changed by their brush with the enterprising, however doomed, mortals, bringing this elucidating treatment of quantum physics to an affecting, hopeful conclusion." –Publishers Weekly

"With iridescent precision, fairy-tale wonder, and brainy humor, Lightman crafts an enthralling and provocative cosmic parable that offers a startlingly fresh perspective on the mysteries of the universe and the paradoxical human condition." –Booklist, starred review

"Lightman is able to write with the keen insight of a scientist and the lyricism of a poet…he brilliantly conveys a sense of the awesome power and mystery of the universe's origins. Whether you are a believer, an atheist or occupy some position in between, if you approach it with an open mind you are certain to find something worth pondering in this delightfully original novel. Who knew cosmology could be such a blast?" –Shelf Awareness    
   
"Concise but ambitious…unusual but often charming." –New Yorker  
 
"A charming, comic explanation of how The Maker might have created the cosmos…if your philosophy allows for the possibility that science and faith in a creator can coexist, you'll enjoy this clever and witty creation." –Boston Globe  
 
"A playful but reverent story…The divine magic of this creation is science itself." –The Daily Beast Must Read

"Lightman is fundamentally serious, not satirical, and his awed amazement at the universe is contagious…those who find science, poetry and religion a palatable mix will be delighted." –Columbus Dispatch

"Mr g bridges the gap between the things we know and the things we cannot know…Lightman has always had a crystalline prose style, and it's very much on display in Mr g. The passages devoted to existence in the Void and to the beauty of the developing universe are delightfully lyrical…Lightman takes on the big metaphysical questions in his book with economy and clarity…Mr g is a brilliant, entertaining allegory, a book that creationists and atheists would find equally thought-provoking. Lightman has created a novel that is erudite and fun to read, and more likely to inspire discussion than dispute." –Chapter 16 review

"Fans of Lightman's popular previous novel, Einstein's Dreams, will recognize the playful imagination behind [Mr g]…if you're open-minded enough to consider the possibility that science and faith can coexist, you'll enjoy 'this clever and witty creation.'" –The Week 

"Profoundly inventive." –About.com

"Lightman is a physicist, and the pyrotechnics involved in the creation of said universe are as dazzling as they are fascinating…The thing that makes it work is its refusal to take itself or its topics too seriously. It makes us think, yes but it also makes us laugh—and what's more enlightening than a book that can make us laugh in mid-winter?" –KUER, Salt Lake City NPR

"Entertaining, clever, and well-written…Mr g is a delightful interplay of faith and science that ultimately renders science absolute but without reducing the human experience to only the material." –Catholic Books Review

"This is a marvellous counterpoint to all of the other nonsense out there on creation. Lightman writes exquisitely, so this fable on the origin of space, time, matter and life is a wordfest that is securely pinned to the rational — making him a 'magic realist' of a refreshingly different stripe." –Nature   
 
"A beautiful and philosophical fable that weaves the laws of quantum physics into a modern Genesis myth that will stick with a reader long after the book is put away." –New York Journal of Books
 
"A fluent description of the cosmos based on the principles of quantum physics—a stunning, symmetrical light show of subatomic particles." –The Wall Street Journal
 
"Lightman once again showcases his training as a theoretical physicist as well as his skill as a writer…What at first appears to be a whimsical story of the creation of the universe winds its way through thought-provoking questions with humor and sound science principles." –NPR Morning edition 

"Terrific. Lightman manages the impossible—writing a riveting story, with odd and intriguing characters, that also slips a stunning amount of physics and cosmology into the reader while he or she is absorbed by what will happen next." –Orion  

"Food for thought…and discussion." –Hudson Valley News
 
"Thought-provoking fiction…With echoes of Calvino, Rushdie, and Saramago, combining science, theology, and moral philosophy, Mr g is a stunningly imaginative work that celebrates the tragic and joyous nature of existence on the grandest possible scale." –B&N Tuesday Nook Blog
 
"I must say, I am a huge fan of his work, God and Lightman…this novel is very clever. Although it is small, it packs in a lot of thought and imagination." –KickAssBookReviews.com
 
"Bold… Lightman suavely weaves theology grounded in science and moral philosophy and alights on evolution of matter, consciousness, spirituality and existential crises." –Miami Herald 

"Delightfully intriguing…a small novel with immensely imaginative ideas." –Arcadiana