The Terrorists: A Martin Beck Police Mystery (10) (Martin Beck Police Mystery Series #10) (Paperback)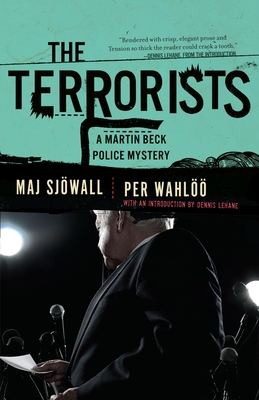 $16.00

usually available in 3-7 days
Other Books in Series
This is book number 10 in the Martin Beck Police Mystery Series series.
Description
---
The final novel in the Martin Beck mystery series by Maj Sjöwall and Per Wahlöö is a masterful, all consuming tale that rushes toward a thrilling, unexpected climax. With a new introduction by Dennis Lehane: "Tension so thick the reader could crack a tooth."
 
An American senator is visiting Stockholm and Martin Beck must lead a team to protect him from an international gang of terrorists. However, in the midst of the fervor created by the diplomatic visit, a young, peace-loving woman is accused of robbing a bank. Beck is determined to prove her innocence, but gets trapped in the maze of police bureaucracy. To complicate matters a millionaire pornographer has been bludgeoned to death in his own bathtub. Filled with the twists and turns and the pulse pounding excitement that are the hallmarks of the Martin Beck novels, The Terrorists is the stunning conclusion to the incredible series that changed crime fiction forever.
About the Author
---
Maj Sjöwall and Per Wahlöö, her husband and coauthor, wrote ten Martin Beck mysteries. They plotted and researched each book together then wrote alternate chapters. The books were written over a ten year period and carefully planned to allow for gradual character development and evolving social commentary as the series continued. Mr Wahloo, who died in 1975, was a reporter for several Swedish newspapers and magazines and wrote numerous radio and television plays, film scripts, short stories, and novels. Maj Sjöwall is also a poet.
Praise For…
---
"Rendered with crisp, elegant prose and tension so thick the reader could crack a tooth."—Dennis Lehane, from the introduction 
  
"Of all the Sjöwall/Wahlöö books, The Terrorists be the tightest in organization and the most suspenseful."—The New York Times

"One of the most authentic, gripping and profound collections of police procedurals ever accomplished."--Michael Connelly
 
"Lively, stylistically taut . . . Sjöwall and Wahlöö changed the genre."—Henning Mankell
 
"The Sjöwall-Wahlöö style and stories are dramas that expose fascinating truths about modern life."—Chicago Tribune
 
"The most superb new police mystery writer of recent years has been the tandem Maj Sjöwall and Per Wahlöö."—Los Angeles Times
 
"Sjöwall and Wahlöö are still the best writers of police procedure in the world."—Birmingham Post
 
"The whole series has an immediacy to it that is both honest and awesome. These are the kind of books you can't help but read in one sitting."—Minnesota Daily
 
"The [Martin Beck] series has maintained such a degree of excellence that comparisons are near impossible."--Minneapolis Tribune