Murder at the Savoy: A Martin Beck Police Mystery (6) (Martin Beck Police Mystery Series #6) (Paperback)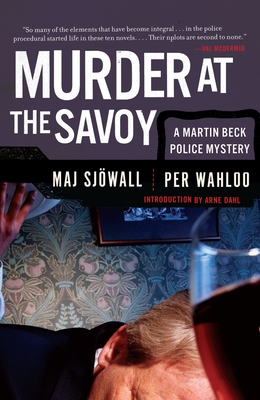 Other Books in Series
This is book number 6 in the Martin Beck Police Mystery Series series.
Description
---
The shocking sixth novel in the Martin Beck mystery series by the internationally renowned crime writing duo by Maj Sjöwall and Per Wahlöö, finds Beck investigating a brutal assassination. With an introduction by Arne Dahl. 
When Viktor Palmgren, a powerful Swedish industrialist is shot during his after-dinner speech in the luxurious Hotel Savoy, it sends a shiver down the spine of the international money markets and terrifies the tiny town of Malmo. No one in the restaurant can identify the gunman, and local police are sheepishly baffled. That's when Beck takes over the scene and quickly picks through Palmgren's background. What he finds is a web of vice so despicable that it's hard for him to imagine who wouldn't want Palmgren dead, but that doesn't stop him and his team of dedicated detectives from tackling one of their most intriguing cases yet.
About the Author
---
Maj Sjöwall and Per Wahlöö, her husband and coauthor, wrote ten Martin Beck mysteries. They plotted and researched each book together then wrote alternate chapters. The books were written over a ten year period and carefully planned to allow for gradual character development and evolving social commentary as the series continued. Mr Wahloo, who died in 1975, was a reporter for several Swedish newspapers and magazines and wrote numerous radio and television plays, film scripts, short stories, and novels. Maj Sjöwall is also a poet.


Praise For…
---
"So many of the elements that have become integral . . . in the police procedural started life in these ten novels. . . . Their plots are second to none."—Val McDermid "Magically successful, a series of crime novels you shouldn't miss."—Minneapolis Tribune"It's hard to think of any other thriller writers (apart from Simenon perhaps) who can capture so much of a society in a couple of hundred pages and yet still hold true to the thriller form."—Sean and Nicci French"One of the most authentic, gripping and profound collection of police procedurals ever accomplished."—Michael Connelly