Mr g: A Novel About the Creation (Vintage Contemporaries) (Paperback)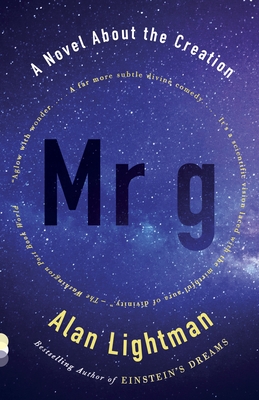 $16.00

usually available in 3-7 days
Description
---
Alan Lightman, the internationally bestselling author of Einstein's Dreams, presents Mr g, a celebration of the highs and lows of existence, on the grandest possible scale: the story of Creation, as told by God.

Once before time existed, Mr g woke up from a nap and decided to create the universe. In the shimmering Void, where he lives with his Aunt Penelope and Uncle Deva, he creates time, space, and matter. Soon follow stars, planets, animate matter, consciousness,and intelligent beings with moral dilemmas. But the creation of space and time has unintended consequences, including the arrival of Belhor, a clever and devious rival. Belhor delights in needling Mr g, demanding explanations for the inexplicable, offering his own opinions on the fledgling universes, and maintaining the necessity of evil. As Mr g's favorite universe grows, he discovers how an act of creation can change everything in the world—including the creator himself.
About the Author
---
Alan Lightman is the author of five previous novels, including the National Book Award finalist The Diagnosis, a book-length narrative poem, two collections of essays, and several books on science. His work has appeared in The Atlantic, Granta, The New Yorker, The New York Review of Books, and Nature, among other publications. A theoretical physicist as well as a novelist, he has served on the faculties of Harvard and MIT, and was the first person to receive a dual faculty appointment at MIT in science and in the humanities.
Praise For…
---
"Aglow with wonder. . . . A far more subtle divine comedy. . . . It's a scientific vision laced with the mirthful aura of divinity." —The Washington Post Book World

"A soulful riff on the birth and eventual demise of our universe." —The New York Times Book Review

"Lightman writes exquisitely, so this fable on the origin of space, time, matter and life is a wordfest that is securely pinned to the rational—making him a 'magic realist' of a refreshingly different stripe." —Nature
 
"Entertaining. . . . Clever and witty."—The Boston Globe

"A scientist's creation myth. . . . Lightman hints that in the face of the universe's wondrous complexity and tremendous capacity for chaos, even an all-powerful creator may be humbled." —The Daily Beast
 
"A fluent description of the cosmos based on the principles of quantum physics—a stunning, symmetrical light show of subatomic particles." —The Wall Street Journal
 
"Lightman is fundamentally serious, not satirical, and his awed amazement at the universe is contagious."  —The Columbus Dispatch
 
"The beautiful writing throughout this little gem of a book is an Alan Lightman trademark." —The Washington Times
 
"[Lightman] has, in Mr g, created not just a fascinating and oddly moving novel, but an entire genre: call it cosmological scientism. Or scientific cosmology. . . . There's nothing else like it." —The Vancouver Sun
 
"A cosmic wink at the infinite loop of creativity and mystery." —The Miami Herald
 
"With wit and a good sense of humor, Lightman is able to approach this very divisive topic in a manner that is sure to please Creationists and Darwinists alike. He deftly combines theology, complex scientific principles and more dilemmas into a lovely tale." —The Charleston Post & Courier
 
"A beautiful and philosophical fable that weaves the laws of quantum physics into a modern Genesis myth that will stick with a reader long after the book is put away." —New York Journal of Books
 
"With iridescent precision, fairy-tale wonder, and brainy humor, Lightman crafts an enthralling and provocative cosmic parable that offers a startlingly fresh perspective on the mysteries of the universe and the paradoxical human condition." —Booklist (starred review)
 
"A delightful, sensual mixture of the mundane and divine—and sometimes it's not clear which is which. . . . It deals powerfully with some of the deepest issues of existence, ethics, and the human condition. I think I've never read a more compelling description of the beauty of the universe. Its irreverent awe is powerful. I loved it!" —Kip Thorne, author of Black Holes and Time Warps
 
"This delightful novel takes the reader on a light hearted romp through the development of the universe from the Big Bang to its cold dark end, addressing along the way some of the big questions that inevitably arise from the development of intelligent life." —Jerome Friedman, Nobel Prize-winning physicist
 
"Just as he did with his incomparable Einstein's Dreams, Alan Lightman again surprises us with a work that is utterly original in both form and content. Mr g is a philosophical fable which is at turns hilarious and moving, rendered with a literary hand so deft that the weightiest metaphysical topics levitate into pure delight."—Rebecca Newberger Goldstein, author of 36 Arguments for the Existence of God 
 
"It would not seem possible for Alan Lightman to match his earlier tour de force, Einstein's Dreams, but in Mr g he has done so—with wit, imagination, and transcendent beauty." —Anita Desai
 
"Here is the creation of the Universe and the young Creator who grapples with what he has made—and ultimately with responsibility and loss. A gem of a novel that is strange, witty, erudite, and alive with Lightman's playful genius." —Junot Díaz, author of The Brief Wondrous Life of Oscar Wao