The Supremes at Earl's All-You-Can-Eat (Vintage Contemporaries) (Paperback)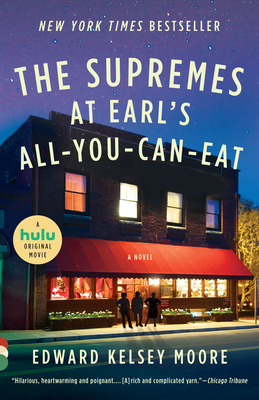 $16.00

usually available in 3-7 days
Description
---
This diner in Plainview, Indiana is home away from home for Odette, Clarice, and Barbara Jean.  Dubbed "The Supremes" by high school pals in the tumultuous 1960s, they've weathered life's storms for over four decades and counseled one another through marriage and children, happiness and the blues.
 
Now, however, they're about to face their most challenging year yet. Proud, talented Clarice is struggling to keep up appearances as she deals with her husband's humiliating infidelities; beautiful Barbara Jean is rocked by the tragic reverberations of a youthful love affair; and fearless Odette is about to embark on the most terrifying battle of her life. With wit, style and sublime talent, Edward Kelsey Moore brings together three devoted allies in a warmhearted novel that celebrates female friendship and second chances.

 
About the Author
---
Edward Kelsey Moore lives in Chicago, where he has enjoyed a long career as a cellist. His short fiction has appeared in several literary magazines, including Indiana Review, African American Review, and Inkwell. His short story "Grandma and the Elusive Fifth Crucifix" was selected as an audience favorite on National Public Radio's Stories on Stage series. 
Praise For…
---
"Hilarious, heartwarming and poignant. . . . A rich and complicated yarn." —
The Chicago Tribune 

"Moore shows a seasoned ease with his funny, damaged subjects. . . . You'll be casting the movie by the second chapter." —
Entertainment Weekly 
"Moore has conjured up the story of an entire community and, at its sparkling center, a trio of memorable heroines." —Julia Glass, author of
Three Junes
"Comparisons to
The Help
and
Fried Green Tomatoes at the Whistle Stop Cafe
are inevitable, but Moore's take on this rowdy troupe of outspoken, lovable women has its own distinctive pluck." —
Publishers Weekly
"Funny and tenderhearted. . . . The most remarkable quality of The Supremes is love—the author's love for his characters, even the most flawed, shines from every page." —Shelf Awareness

"Edward Kelsey Moore knows how to write a terrific, complex, believable, and always intriguing story." —The New York Journal of Books

"Edward Kelsey Moore has written a novel jam-packed with warmth, honesty, wit, travail, and just enough madcap humor to keep us giddily off-balance. . . . The Supremes at Earl's All-You-Can-Eat is that rare and happy find: a book that delivers not only good story, but good company." —Leah Hager Cohen, author of The Grief of Others
 
"A gripping novel that weaves together the lives of three remarkable women, and does so with flair, wit, and tremendous heart." —Carolina De Robertis, author of Perla

"The author uses warmhearted humor and salty language to bring to life a tight-knit African-American community. . . . [Has] salt-of-the-earth characters like fearless Odette, motherless Barbara Jean, and sharp-tongued Clarice, along with an event-filled plot that readers will laugh and cry over." —Library Journal

"A novel of strong women, evocative memories and deep friendship." —Kirkus Reviews

"I am always a little suspicious of a male writer speaking for female characters, but Moore inhabits and enlarges the experience he creates so delightfully. A real triumph for a brilliant new novelist." —Suzanne Levine, author of How We Love Now: Women Talk About Intimacy after Fifty

"Edward Kelsey Moore's The Supremes at Earl's All-You-Can-Eat had me nodding in recognition and laughing out loud when I wasn't crying. His delightful voice really rings true, bringing the unforgettable Odette, Clarice and Barbara Jean to vivid life on every page.—Connie Briscoe, author of Money Can't Buy Me Love
 
"The Supremes at Earl's-All-You-Can-Eat is a scrumptious delight! I can't wait for my old friends to get to know my new friends: Odette, Barbara Jean, and Clarice (not to mention Odette's pot-smoking mama and her friend Mrs. Roosevelt!)." —Carleen Brice, author of Orange Mint and Honey and Children of the Waters