The French Market Cookbook: Vegetarian Recipes from My Parisian Kitchen (Paperback)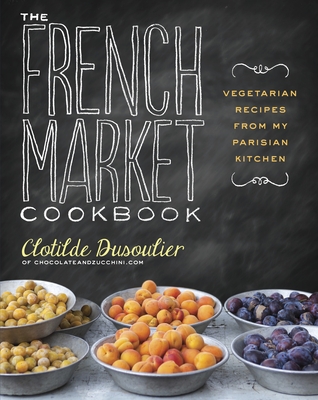 $22.50
usually available in 5-10 days
Staff Reviews
---
Genuine, fresh, and inviting. I love Dusoulier's writing, and her introductions to each recipe are a treat. This cookbook is based on the idea of shopping at "les marches," or farmers markets. If you're ever in France, be sure to venture out on market day! It's a sight to see in any town and Dusolier captures that beautiful, home-grown essence in her book. Each section (Spring, Summer, Fall, Winter) is filled with vibrant vegetarian recipes utilizing the produce of that season. There are some wonderful classics mixed in with plenty of twists. Recipes are adaptable and easy to follow. I started flagging interesting recipes with sticky notes, but would've filled the whole book! My family can heartily recommend her Tomato Mustard Tart and Peach Clafoutis. Great for anyone with food sensitivities, as well as the masses.
— Brynn
Description
---
Cook from the farmer's market with inspired vegetarian recipes—many of which are gluten-free and dairy-free—with a French twist, all highlighting seasonal produce.
 
Beloved ChocolateAndZucchini.com food blogger Clotilde Dusoulier is not a vegetarian. But she has, like many of us, chosen to eat less meat and fish, and is always looking for new ways to cook what looks best at the market. In The French Market Cookbook, she takes us through the seasons in 82 recipes—and explores the love story between French cuisine and vegetables.
 
Choosing what's ripe and in season means Clotilde does not rely heavily on the cheese, cream, and pastas that often overpopulate vegetarian recipes. Instead she lets the bright flavors of the vegetables shine through: carrots are lightly spiced with star anise and vanilla in a soup made with almond milk; tomatoes are jazzed up by mustard in a gorgeous tart; winter squash stars in golden Corsican turnovers; and luscious peaches bake in a cardamom-scented custard. With 75 color photographs of the tempting dishes and the abundant markets of Paris, and with Clotilde's charming stories of shopping and cooking in France, The French Market Cookbook is a transportive and beautiful cookbook for food lovers everywhere.
About the Author
---
CLOTILDE DUSOULIER is the creator of the award-winning food blog ChocolateAndZucchini.com, and the author of the cookbook Chocolate & Zucchini and the guidebook Clotilde's Edible Adventures in Paris. She lives in Paris, France.
Praise For…
---
"Vegetable dishes at their brightest and most imaginative! Clotilde adds a touch of surprise to every recipe. Who needs beef in shepherd's pie when you can have lentils and broccoli? Not Clotilde . . . and now not moi."
—Dorie Greenspan
 
" 'Food blogger' doesn't do Clotilde Dusoulier justice. True, she's amassed a cult following with her pioneering website, but she's also a journalist with her finger on the pulse of Parisian culture—and an expert and wholly original cook. With its delicious, vegetable-driven take on French cuisine, The French Market Cookbook is a triumph of all Dusoulier brings to the table, as enlightened and joyous as the woman behind it."
—Dan Barber

"Coaxing out each ingredient's true, rich flavor remains the book's greatest triumph … Dusoulier's refreshingly simple, yet comprehensive, manual urges that we go to the market to "be surprised and seduced by the ingredients," to which we answer "oui.""  
 —Saveur.com
 
"We know the French have a way with butter, cheese and wine, but they're also supertalented with preparing green beans, eggplant and cabbage. And while "healthy French food" may sound like an oxymoron, Clotilde Dusoulier, who lives in Paris and writes the blog Chocolate and Zucchini, promises veggies don't have to be doused in cream or mixed with a pile of pasta to taste delicious."
– Oprah.com, The Best Cookbooks of Summer 2013
 
"Dusoulier, you may know, is the wildly popular blogger behind Chocolate and Zucchini, and with her charming new book she is showcasing, as the subtitle puts it, "Vegetarian Recipes From My Parisian Kitchen." She's a flexitarian these days, but with the cookbook she wants to show readers how to coax flavor out of the best locally grown, seasonal fruits and vegetables without relying on meats (mock or otherwise) or heavy amounts of cheese or even too many carbs."
– Washington Post

"90 seasonal recipes that work magic with produce available from your local farmers."
– DailyCandy
 
"These recipes achieve a simple elegance that underscores, without overwhelming, the natural perfection of seasonal ingredients." 
- Boston Globe

"If you can't make it to France this summer, The French Market Cookbook by Clotilde Dusoulier will teach your Union Square spoils to speak francais. No heavy white sauces or elaborate steps here, just regional, ingredient-driven, rustic-elegant fare … Get the taste of jealousy out of your mouth with cherry-rose compote or peach clafoutis, ooh la la."
– Edible Manhattan
 
"One doesn't generally think of French cuisine as being vegetarian-friendly, yet vegetables are front and center in Clotilde Dusoulier's French Market Cookbook. In this charming new vegetarian cookbook, the Chocolate & Zucchini author highlights seasonal, meatless dishes that anyone can love."
– TheKitchn.com
 
"This clever book is arranged by season and inspires pangs of longing in anyone who has ever gone to a produce market in Paris."
– France Magazine
 
"Vibrant photographs throughout highlight the textures, colors, and simplicity of Dusoulier's fare and will inspire readers to either cook or book a trip to France."
– Publishers Weekly