Lyndon Johnson and the American Dream: The Most Revealing Portrait of a President and Presidential Power Ever Written (Paperback)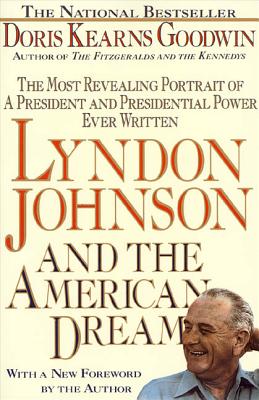 Email or call for price.
Hard to Find - this title is likely out of print
Description
---
Doris Kearns Goodwin's classic life of Lyndon Johnson, who presided over the Great Society, the Vietnam War, and other defining moments the tumultuous 1960s, is a monument in political biography. From the moment the author, then a young woman from Harvard, first encountered President Johnson at a White House dance in the spring of 1967, she became fascinated by the man--his character, his enormous energy and drive, and his manner of wielding these gifts in an endless pursuit of power. As a member of his White House staff, she soon became his personal confidante, and in the years before his death he revealed himself to her as he did to no other.
Widely praised and enormously popular, Lyndon Johnson and the American Dream is a work of biography like few others. With uncanny insight and a richly engrossing style, the author renders LBJ in all his vibrant, conflicted humanity.
About the Author
---
Doris Kearns Goodwin is a celebrated historian and the Pulitzer Prize-winning author of No Ordinary Time: Franklin and Eleanor Roosevelt: The Home Front in World War II, the runaway bestseller Team of Rivals: The Political Genius of Abraham Lincoln, which was the inspiration for Steven Spielberg's award-winning film Lincoln, and five other critically acclaimed and bestselling books. She lives in Concord, Massachusetts.
Praise For…
---
"The most penetrating, fascinating political biography I have ever read . . . No other President has had a biographer who had such access to his private thoughts." —The New York Times
"Magnificent, brilliant, illuminating . . . A profound analysis of both the private and the public man." —Miami Herald
"Kearns has made Lyndon Johnson so whole, so understandable that the impact of the book is difficult to describe. It might have been called 'The Tragedy of Lyndon Johnson,' for he comes to seem nothing so much as a figure out of Greek tragedy." —Houston Chronicle
"Johnson's every word and deed is measured in an attempt to understand one of the most powerful yet tragic of American Presidents." —Chicago Tribune
"A fine and shrewd book . . . Extraordinary . . . Poignant . . . The best [biography of LBJ] we have to date." —Boston Globe
"An extraordinary portrait of a generous, devious, complex, and profoundly manipulative man . . . [Kearns Goodwin] became the custodian not only of LBJ's political lore but of his memories, hopes, and nightmares . . . We have it all laid out for us in this wrenchingly intimate analysis of a man who virtues, like his faults, were on a giant scale." —Cosmopolitan
"Absorbing and sympathetic, warts and all." —The Washington Post
"A grand and fascinating portrait of a most complicated, haunted, and here appealing man." —The Village Voice
"Vivid . . . No other book is likely to offer a sharper, more intimate portrait of Lyndon Johnson in his full psychic undress." —Newsweek
"Powerful, first-rate, gratifying . . . [The author] has proven herself worthy of Lyndon Johnson's trust; for by sharing his fears and dreams with us, she has helped us to understand no just one man, but an era, and ultimately ourselves." —Newsday