I Capture the Castle (Paperback)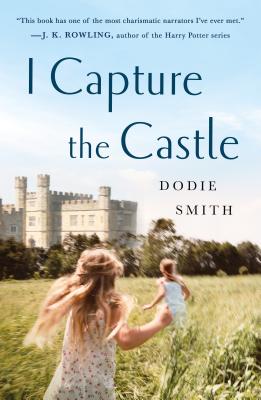 Staff Reviews
---
Wonderful atmosphere, this book is a delight to read! I love the unique perspective of this book – as a girl practicing writing in several "exercise books." Makes you wonder what else is going on in her periphery. Be transported to a crumbling castle in the English countryside with a dramatic family and neighborly intrigue. This story really takes you away!
— Brynn
Description
---
One of the 20th century's most beloved novels is still winning hearts, Dodie Smith's I Capture the Castle!

"This book has one of the most charismatic narrators I've ever met." -- J.K. Rowling, author of the Harry Potter series

Adapted to a feature film in 2003, I Capture the Castle tells the story of seventeen-year-old Cassandra and her family, who live in not-so-genteel poverty in a ramshackle old English castle. Here she strives, over six turbulent months, to hone her writing skills. She fills three notebooks with sharply funny yet poignant entries. Her journals candidly chronicle the great changes that take place within the castle's walls, and her own first descent into love.

By the time she pens her final entry, she has "captured the castle"-- and the heart of the reader-- in one of literature's most enchanting entertainments.

Bonus: Reading Group Discussion Guide included in this edition
About the Author
---
Dorothy Gladys "Dodie" Smith, born in 1896 in Lancashire, England, was one of the most successful female dramatists of her generation. She wrote Autumn, Crocus, and Dear Octopus, among other plays. I Capture the Castle, her first novel, was written in the 1940s while she was living in America. An immediate success, it marked her crossover from playwright to novelist, and was produced as a play in 1954. Smith also wrote the novels The Town in Bloom, It Ends with Revelations, A Tale of Two Families, and The Girl in the Candle-Lit Bath, but she is best known today as the author of two highly popular stories for young readers: The Hundred and One Dalmatians and The Starlight Barking. She died in 1990.
Praise For…
---
"This book has one of the most charismatic narrators I've ever met. Seventeen-year-old Cassandra Mortmain captures the castle in her insightful, witty journal entries." —Harry Potter author J. K. Rowling

"What a lovely book is I Capture the Castle. It's as fresh as if it were written this morning, and as classic as Jane Austen. I'm very happy to have met it." —Donald E. Westlake

"A delicious, compulsively readable novel about young love and its vicissitudes. What fun!" —Erica Jong

"Dreamy and funny . . . an odd, shimmering timelessness clings to its pages. A thousand and one cheers for its reissue. A+" —Entertainment Weekly

"I Capture the Castle is finally back in print. It should be welcomed with a bouquet of roses and a brass band. Ever since I was handed a tattered copy years ago with the recommendation 'You'll love it,' it has been one of my favorite novels." —Susan Isaacs

"It is an occasion worth celebrating when a sparkling novel, a work of wit, irony, and feeling is brought back into print after an absence of many years. So uncork the champagne for I Capture the Castle." —Los Angeles Times