The Country Life: A Novel (Paperback)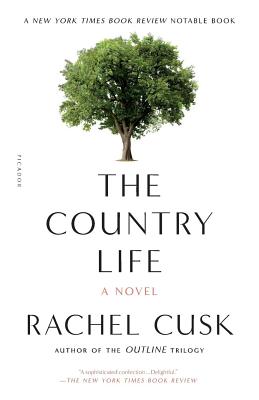 $20.00

usually available in 3-5 business days
Description
---
A New York Times Notable Book of the Year
Winner of the Somerset Maugham Award

The Country Life, Rachel Cusk's third novel, is a rich and subtle story about embarrassment, awkwardness, and being alone; about families, or the lack of them; and about love in some peculiar guises.

"A brilliant oxymoron—a serious farce . . . Cusk's ability to keep us interested in innumerable human collisions is uncanny." —The New Yorker

Stella Benson sets off for Hilltop, a tiny Sussex village housing a family that is somewhat larger-than-life. Her hopes for the Maddens may be high, but her station among them—as au pair to their irascible son, Martin—is undeniably low.

What could possibly have driven her to leave her home, job, and life in London for such rural ignominy? Why has she severed all contact with her parents? And why is she so reluctant to talk about her past?
About the Author
---
Rachel Cusk is the author of Second Place; the trilogy Outline, Transit, Kudos; the essay collection Coventry; the memoirs A Life's Work, The Last Supper, and Aftermath; and several other novels: Saving Agnes (winner of the Whitbread Award), The Temporary, The Country Life (winner of the Somerset Maugham Award), The Lucky Ones, In the Fold, Arlington Park, and The Bradshaw Variations.
Praise For…
---
"A sophisticated confection . . . For this delightful novel about the governess from hell, maybe only the word 'wicked' will do." —The New York Times Book Review

"A brilliant oxymoron--a serious farce so subtle that its command of the reader must called insidious . . . Bright, candid, and modestly humorous, Stella Benson lures us into complicity . . . Cusk's ability to keep us interested in innumerable human collisions is uncanny. We may finally learn Stella's secrets, but she remains as fascinatingly indecipherable as anyone we know." —The New Yorker

"Enchanting . . . A funny, modern Jane Eyre combined with an Anne Tyler-esque tale about escaping from the pressures of an unhappy urban life." —Newsday

"An oddly ingratiating social comedy . . . Smart, literate, offbeat, confiding . . . A pleasure." —The Boston Globe

"Hilarious . . . Stella is strange because strangeness is part of the human condition; she's just a little more aware of it than most people." —Village Voice Literary Supplement

"Smart, charming, and often outright hilarious." —Entertainment Weekly