Remembered Prisoners of a Forgotten War: An Oral History of Korean War POWs (Paperback)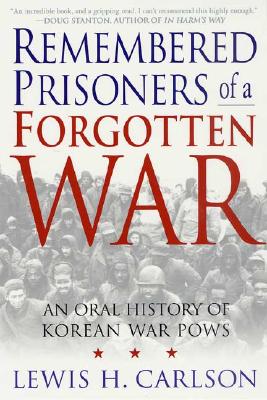 $14.95
Special Order - may be out of print
Description
---
The Korean War POW remains the most maligned victim of all American wars. For nearly half a century, the media, general public, and even scholars have described hundreds of these prisoners as "brainwashed" victims of a heinous enemy who had uncharacteristically caved in to their Communist captors or, even worse, as turncoats who betrayed their fellow soldiers. In either case, these boys apparently lacked the "right stuff" required of our brave sons.
Dr. Carlson debunks these popular myths in this captivating oral history. From the Tiger Death March to the paranoia here at home, Korean War POWs suffered injustices on a scale few can comprehend. Here, at long last, is a chance to hear the true story of these brave men in their own words--a story that, until now, has gone largely untold.
About the Author
---
Dr. Lewis H. Carlson is a prolific author and scholar whose books include "We Were Each Other's Prisoners: An Oral History of World War II American and German Prisoners of War." He lives in Michigan.
Praise For…
---
"Remembered Prisoners of a Forgotten War is an incredible book, and a gripping read. I can't recommend this highly enough because it tells us all that we've forgotten and often never knew about our fathers, grandfathers, uncles, and brothers who served in a war that was as chilling and challenging and life-changing as any war anywhere. These men deserve to be heard-- and we need to hear them as we navigate in these times of our own. Lewis Carlson has done a great deed in letting these men speak-- for the first time-- for themselves."--Doug Stanton, New York Times bestselling author of In Harm's Way

"Lewis Carlson gives voice to the vital human story from a pivotal American war, through men who first suffered cruelties at the enemy's hands and then abuse from their own society. Remembered Prisoners of a Forgotten War is a harrowing story, powerfully told, a triumph for truth in the historical fog called Korea."--Charles J. Hanley, Pulitzer Prize-winning journalist and co-author of The Bridge at No Gun Ri

"The most vivid and thorough account of the Korean War POW ever published. An astounding journey through America's worst and most important POW experience."--Lieutenant Colonel Elliott Gruner, U.S. Army, Associate Professor of English, USMA, and author of Prisoners of Culture: Representing the Vietnam POW