A Voyage Long and Strange: On the Trail of Vikings, Conquistadors, Lost Colonists, and Other Adventurers in Early America (Paperback)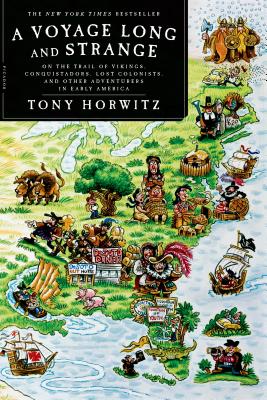 $24.00
usually available in 1-5 days
Staff Reviews
---
Tony Horwitz's A Voyage Long and Strange: Rediscovering the New World is a fascinating and wonderfully written combination of history and travel literature masterfully interwoven. The ideation for writing the book took place when Horwitz was visiting Plymouth and realized how little he actually knew about the age of exploration in America and realized that most other Americans were in the very same boat. From the Vikings to the Pilgrims he first lays out the most current historical information and then actually travels the route taken by the explorer describing the monuments and archaology and seeking out local history buffs whenever possible. The writing is conversational and full of interesting facts and descriptions. This book is very highly recommended.
~Matt
— From
Matt
Description
---
A Voyage Long and Strange is a rich mixture of scholarship and modern-day adventure that brings the forgotten first chapter of America's history vividly to life.

What happened in North America between Columbus's sail in 1492 and the Pilgrims' arrival in 1620?

On a visit to Plymouth Rock, Tony Horwitz realizes he doesn't have a clue, nor do most Americans. So he sets off across the continent to rediscover the wild era when Europeans first roamed the New World in quest of gold, glory, converts, and eternal youth. Horwitz tells the story of these brave and often crazed explorers while retracing their steps on his own epic trek--an odyssey that takes him inside an Indian sweat lodge in subarctic Canada, down the Mississippi in a canoe, on a road trip fueled by buffalo meat, and into sixty pounds of armor as a conquistador reenactor in Florida.
About the Author
---
Tony Horwitz is a native of Washington, D.C., and a graduate of Brown University and Columbia University's Graduate School of Journalism. He worked for many years as a reporter, first in Indiana and then during a decade overseas in Australia, Europe, Africa, and the Middle East, mostly covering wars and conflicts as a foreign correspondent for The Wall Street Journal. After returning to the States, he won the Pulitzer Prize for national reporting and worked as a staff writer for The New Yorker before becoming a full-time author.

His books include Midnight Rising, A Voyage Long and Strange, Blue Latitudes, a national and New York Times bestseller about the Pacific voyages of Captain James Cook, Baghdad Without a Map, a national bestseller about the Middle East, and Confederates in the Attic, a national and New York Times bestseller about the Civil War.

Horwitz has been a fellow at the Radcliffe Institute for Advanced Study at Harvard University and a visiting scholar at the John Carter Brown Library at Brown University. He lives with his wife, Geraldine Brooks, and their son, Nathaniel, on the island of Martha's Vineyard in Massachusetts.
Praise For…
---
"Pulitzer Prize–winning journalist Horwitz has presented what could be described as a guide for those who are historically ignorant of the "lost century" between the first voyage of Columbus and the establishment of Jamestown in 1607. In this informative, whimsical, and thoroughly enjoyable account, Horwitz describes the exploits of various explorers and conquistadores and enriches the stories with his own experiences when visiting some of the lands they "discovered." Horwitz writes in a breezy, engaging style, so this combination of popular history and travelogue will be ideal for general readers." —Booklist (starred review)

"Irreverent, effervescent… accessible to all ages, hands-on and immensely readable, this book invites readers to search out America 's story for themselves." —Kirkus Reviews

"This readable and vastly entertaining history travelogue is highly recommended." —Library Journal (starred review)

"Funny and lively…popular history of the most accessible sort. The stories [Horwitz] tells are full of vivid characters and wild detail." —The New York Times Book Review

"A romp through the sixteenth century…. Horwitz has an ear for a good yarn and an instinct for the trail leading to an entertaining anecdote." —The Washington Post

"Honest, wonderfully written, and heroically researched…. Horwitz unearths whole chapters of American history that have been ignored." —Boston Globe

"Like travel writer Bill Bryson, Horwitz has a penchant for meeting colorful characters and getting himself into bizarre situations." —The Christian Science Monitor

"A sweeping history.… A fascinating story, filled with adventure, Vikings, French voyageurs and those Pilgrims." —The Milwaukee Journal Sentinel

"Horwitz is a very funny writer." —Bloomberg News

"A winning and eye-opening read.… Horwitz's charm, smarts, impeccable research and curiosity make this a voyage worth taking." —The Plain Dealer (Cleveland)

"By conveying our past so heartily, handsomely and winsomely, Tony Horwitz does America proud." —The Providence Journal