The Fantastic Secret of Owen Jester (Paperback)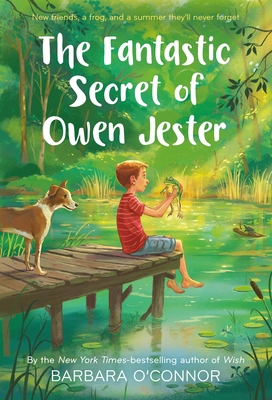 $7.99
Usually Ships in 1-5 Days
Description
---
Owen Jester wishes his family hadn't moved to his grandfather's house after his dad lost his job. For one thing, his grandfather's live-in nurse sure knows how to ruin anyone's idea of a good time. And then there's Viola, the girl next door, who can't ever mind her own business. She even thinks Owen should put his freshly captured bullfrog back into the pond. Then late one night, Owen hears a curious noise when the train passes by his grandfather's house. Something mysterious and wonderful has fallen off the train. When Owen finally discovers what it is, he realizes he just might need a know-it-all after all. But can he trust Viola keep the most fantastic secret to ever tumble into Carter, Georgia?
This title has Common Core connections.
About the Author
---
Barbara O'Connor is the author of numerous acclaimed books for children, including Fame and Glory in Freedom, Georgia, How to Steal a Dog, The Small Adventure of Popeye and Elvis, and The Fantastic Secret of Owen Jester. She has been awarded the Parents' Choice Gold and Silver Awards, the Massachusetts Book Award, the Kansas William Allen White Award, the South Carolina Children's Book Award, the Indiana Young Hoosier Award, the South Dakota Children's Book Award, and the Dolly Gray Award, among many honors. As a child, she loved dogs, salamanders, tap dancing, school, and even homework. Her favorite days were when the bookmobile came to town. She was born and raised in Greenville, South Carolina, and now lives in Duxbury, Massachusetts, a historic seaside village not far from Plymouth Rock.
Praise For…
---
"O'Connor has perfect pitch with this comic adventure, which ends with a happy resolution everyone, even the frog, can live with." —New York Times Book Review
"O'Connor masterfully twists the two plot threads--Owen's gradual realization that Tooley must be released, and the children's Fitzcarraldo-like mission to move the submarine through brush to pond--into a fully convincing tale pitched perfectly to the upper elementary grades." —BCCB, Starred Review
"This well-crafted novel creates a charming mix of the commonplace and the extraordinary. . . . Appealing and authentic, this tale of summertime adventure will be a hit with readers year round." —School Library Journal, Starred Review
"O'Connor has spun a lovely read that perfectly captures the schemes and plans of school-age kids in the long days of summer." —Kirkus Reviews, Starred Review
"With a quiet sensitivity, O'Connor explores the effects of unemployment and relocating and the joys of both longtime companions and new, unexpected friendships. Filled with charm and wonder, this finely crafted novel reminds readers of the mysteries to be found in childhood and the outdoors." —BookPage
". . . the story is smoothly written, the secret is ingenious and believable, and who can resist a frog named Tooley Graham?" —Booklist
"O'Connor's funny, triumphant tale reveals the wisdom of listening to one's inner voice over the noise of one's peers." —Publishers Weekly