Future Stories: What's Next? (Hardcover)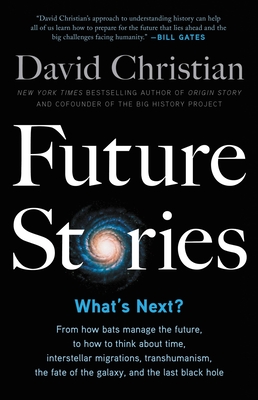 $30.00

Special Order - may be out of print
Description
---
The New York Times bestselling author of Origin Story, who Bill Gates has "long been a fan of," turns his attention to the future of humanity — and how we think about it — in this ambitious book.

The future is uncertain, a bit spooky, possibly dangerous, maybe wonderful. We cope with this never-ending uncertainty by telling stories about the future, future stories. How do we construct those stories? Where is the future, the place where we set those stories? Can we trust our future stories? And what sort of futures do they show us?

This book is about future stories and future thinking, about how we prepare for the future. Think of it as a sort of User's Guide to the Future. We all need such a guide because the future is where we will spend the rest of our lives.

David Christian, historian and author of Origin Story, is renowned for pioneering the emerging discipline of Big History, which surveys the whole of the past. But with Future Stories, he casts his sharp analytical eye forward, offering an introduction to the strange world of the future, and a guide to what we think we know about it at all scales, from the individual to the cosmological.

Christian consults theologians, philosophers, scientists, statisticians, and scholars from a huge range of places and times as he explores how we prepare for uncertain futures, including the future of human evolution, artificial intelligence, interstellar travel, and more. By linking the study of the past much more closely to the study of the future, we can begin to imagine what the world will look like in a hundred years and consider solutions to the biggest challenges facing us all.
About the Author
---
David Christian is a Professor Emeritus at Macquarie University, where he was formerly a Distinguished Professor of History and the director of the Big History Institute. He cofounded the Big History Project with Bill Gates, his Coursera MOOCs are popular around the world, and he is cocreator of the Macquarie University Big History School.

He has delivered keynotes at conferences around the world, including the Davos World Economic Forum, and his TED Talk has been viewed more than twelve million times. He is the author of numerous books and articles, as well as the New York Times bestseller Origin Story. 
Praise For…
---
"David Christian's approach to understanding history—by exploring multiple perspectives and disciplines—can help all of us learn how to prepare for the future that lies ahead and the big challenges facing humanity."—Bill Gates

"A head turner. Future Stories is a clarion call for us to see the past and the future together—across multiple scales—and to act for the future of our planet."—Marnie Hughes-Warrington, author of History as Wonder

"David Christian transfers his gifts for telling big stories from the past to the future, tracing the ways in which entities from the microscopic to the cosmic approach the future. His radical scale-shifting still makes space for us humans, individually and collectively—and desperately—trying to know 'what comes next?'"—Merry E. Wiesner-Hanks, Editor-in-chief of Cambridge World History

"David Christian possesses a unique gift for collecting nuggets of knowledge from all sorts of disciplines and putting them together into a superbly unified whole that brings out the beauty of the overall big picture. Origin Story provides the long run-up that gives us a way to think seriously about how we got here; Future Stories continues this 'evolutionary epic' and explores some of the many possibilities of the coming Big Futures that may yet lie ahead."—Joseph Voros, Foresight educator, researcher and consultant and adjunct professor of Foresight

"Future Stories is simultaneously entertaining and sobering, and is recommended reading for anyone who may be curious about what's ahead of us."—Shelf Awareness

"Christian lucidly explains complex scientific, philosophical, and historical concepts. The result is a stimulating look ahead."—Publishers Weekly