Loving Frank: A Novel (Paperback)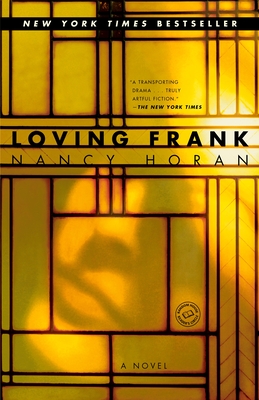 $18.00

usually available in 3-5 business days
Staff Reviews
---
Having grown up in the shadow of Taliesin, I already knew some of the lore surrounding Frank Lloyd Wright and his architecture and love affairs. This novelization of the relationship between Wright and Mamah Cheney is impressively well researched. There is the unrelenting self-absorption of the two lovers who shocked Chicago society and the world architectural community. Together they offend and estrange their families, children, friends and business associates. You may already know the denouement, but Horan's depiction is chilling and left me holding the terrible realization that tragedy can find one anywhere, including this most perfect, verdant setting in rural Wisconsin.
~Dana
— From
Dana
Description
---
NEW YORK TIMES BESTSELLER • From the author of The House of Lincoln, an "enthralling" novel that brings "the buried truths of the ill-starred relationship of Mamah Borthwick Cheney and Frank Lloyd Wright to light" (The New York Times Book Review).

"Masterful."—People
"A fascinating love story."—San Francisco Chronicle
"Truly artful fiction."—The New York Times

"I have been standing on the side of life, watching it float by. I want to swim in the river. I want to feel the current."

So writes Mamah Borthwick Cheney in her diary as she struggles to justify her clandestine love affair with Frank Lloyd Wright. Four years earlier, in 1903, Mamah and her husband, Edwin, had commissioned the renowned architect to design a new home for them. During the construction of the house, a powerful attraction developed between Mamah and Frank, and in time the lovers, each married with children, embarked on a course that would shock Chicago society and forever change their lives. 
 
Drawing on years of research, Horan weaves little-known facts into a compelling narrative, vividly portraying the conflicts and struggles of a woman forced to choose between the roles of mother, wife, lover, and intellectual. Mamah's is an unforgettable journey marked by choices that reshape her notions of love and responsibility, leading inexorably to this novel's stunning conclusion.

Elegantly written and remarkably rich in detail, Loving Frank is a fitting tribute to a courageous woman, a national icon, and their timeless love story.
 
Winner of the James Fenimore Cooper Prize for Best Historical Fiction • One of the Best Books of the Year: The Washington Post, The Chicago Tribune, Minneapolis Star Tribune, The Christian Science Monitor
About the Author
---
Nancy Horan, a former journalist and longtime resident of Oak Park, Illinois, now lives and writes on an island in Puget Sound.
Praise For…
---
"[A] thoughtful debut novel [that] pits morality against passion . . . the perfect selection to jump-start some satisfyingly heated arguments within your book club."—USA Today

"The powerful writing imbues the tale with the terrible inevitability of a Greek tragedy."—Chicago

"Loving Frank reveals what we expect to get from great fiction: timeless truths about ourselves."—New York Daily News

"In Mamah, Horan creates an unforgettably complex heroine."—The Washington Post

"A glory to behold."—New York

"The conclusion . . . is unexpectedly powerful."—Pittsburgh Post-Gazette

"An impressive and admirable debut . . . If Frank Lloyd Wright is the reason people will pick up this book, Mamah Borthwick is the reason they will keep reading it . . . Loving Frank [is] a beautifully designed, innovative and noteworthy work of art."—Chicago Tribune

"It takes great courage to write a novel about historical people, and in particular to give voice to someone as mythic as Frank Lloyd Wright. This beautifully written novel about Mamah Cheney and Frank Lloyd Wright's love affair is vivid and intelligent, unsentimental and compassionate."—Jane Hamilton, author of When Madeline Was Young

"Horan's nuanced evocation of these flawed human beings plays beautifully against the lurid facts of their situation. As in the best historical fiction, she finds both the truth and the heart of her story."—Los Angeles Times

"[Nancy Horan] does well to avoid serving up a bodice-ripper for the smart set. . . . She succeeds in conveying the emotional center of her protagonist, whom she paints as a protofeminist, an educated woman fettered by the role of bourgeois matriarch."—The New Yorker

"Loving Frank is one of those novels that take over your life. It's mesmerizing and fascinating—filled with complex characters, deep passions, tactile descriptions of astonishing architecture, and the colorful immediacy of daily life a hundred years ago—all gathered into a story that unfolds with riveting urgency."—Lauren Belfer, author of Ashton Hall

"This gripping historical novel offers new insight into the mind of an American icon through the woman he loved."—Parade

"I admire this novel, adore this novel, for so many reasons: The intelligence and lyricism of the prose. The attention to period detail. The epic proportions of this most fascinating love story. Mamah Cheney has been in my head and heart and soul since reading this book; I doubt she'll ever leave."—Elizabeth Berg, author of The Story of Arthur Truluv

"Using material gleaned from seven years of careful research, author Nancy Horan suceeds in getting inside the mind of Wright's 'soul mate' and making their relationship real."—Desert Morning News

"Loving Frank is a novel of impressive scope and ambition."—The Atlanta Journal-Constitution