Splinters of Scarlet (Hardcover)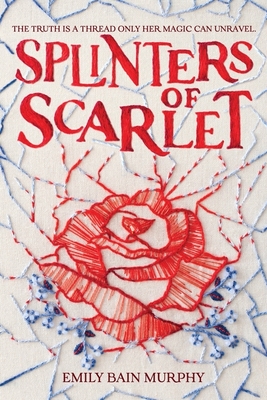 Description
---
Enchantée meets Downton Abbey in this atmospheric YA historical fantasy set in nineteenth-century Denmark, where secrets can kill and magic is a deadly gift.

"Emily Bain Murphy weaves an exquisite tale of mystery, enchantment and valor. I loved this spellbinding book!" – Rebecca Ross, author of THE QUEEN'S RISING

For Marit Olsen, magic is all about strategy: it flows freely through her blood, but every use leaves behind a deadly, ice-like build-up within her veins called the Firn. Marit knows how dangerous it is to let too much Firn build up—after all, it killed her sister—and she has vowed never to use her thread magic. But when Eve, a fellow orphan whom Marit views like a little sister, is adopted by the wealthy Helene Vestergaard, Marit will do anything to stay by Eve's side. She decides to risk the Firn and uses magic to secure a job as a seamstress in the Vestergaard household.
 
But Marit has a second, hidden agenda: her father died while working in the Vestergaards' jewel mines—and it might not have been an accident. The closer Marit gets to the truth about the Vestergaard family, the more she realizes she and everyone she's come to love are in danger. When she finds herself in the middle of a treacherous deception that goes all the way up to the king of Denmark, magic may be the only thing that can save her—if it doesn't kill her first.
About the Author
---
Emily Bain Murphy was born in Indiana and raised in Hong Kong and Japan. She graduated from Tufts University and has also called Massachusetts, Connecticut, and California home. She is the author of The Disappearances and lives in the St. Louis area with her husband and two children.
Twitter: @EBain
Instagram: @emilybainmurphy
Praise For…
---
★ "Murphy's world-building is extraordinary. Readers will delight in exploring the intricate passageways and elaborate furnishings of the mansion.... Murphy's attention to detail is delicious... A great fantasy for middle school readers who need an age-appropriate challenge that won't burn their eyes."—
School Library Journal
, STARRED review
★"An assured blend of historical fiction and fantasy, with satisfyingly researched details appearing alongside a simple but powerful system of magic.... Most satisfying is the book's villain, an occasional narrator whose identity is revealed in time. Murphy has created a more nuanced villain than is usually attempted in YA fantasy, with valid (yet misguided) goals and easily understandable, even sympathetic motivations. Marit's struggle to find and protect her found family, the lush and hygge-filled Scandinavian surroundings and the thrilling showdown with a complex villain make Splinters of Scarlet a finely woven tale perfect for historical fiction and fantasy readers alike."—BookPage, STARRED review
"Part wish-fulfillment fantasy, with lavish descriptions of clothing, food, and flowers, part gritty whodunit....Come for the ballet costumes, stay for the exposé of corruption." —
Kirkus
"Set against the backdrop of nineteenth-century Denmark, this standalone historical fantasy has an intriguing premise and a large cast. Hand to fans of dangerous magic and found families."
—
Booklist
"Readers can take aesthetic pleasure in the magical gowns Marit creates and the lush, gilded world of privilege in 1860s Denmark." —
The Bulletin of the Center for Children's Books