Large Carnivore Conservation and Management: Human Dimensions (Earthscan Studies in Natural Resource Management) (Paperback)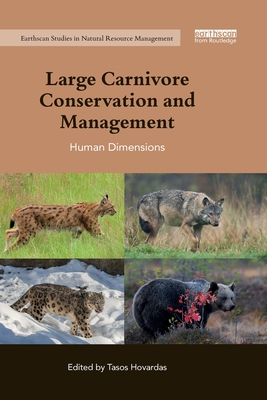 Description
---
Large carnivores include iconic species such as bears, wolves and big cats. Their habitats are increasingly being shared with humans, and there is a growing number of examples of human-carnivore coexistence as well as conflict. Next to population dynamics of large carnivores, there are considerable attitude shifts towards these species worldwide with multiple implications.
This book argues and demonstrates why human dimensions of relationships to large carnivores are crucial for their successful conservation and management. It provides an overview of theoretical and methodological perspectives, heterogeneity in stakeholder perceptions and behaviour as well as developments in decision making, stakeholder involvement, policy and governance informed by human dimensions of large carnivore conservation and management. The scope is international, with detailed examples and case studies from Europe, North and South America, Central and South Asia, as well as debates of the challenges faced by urbanization, agricultural expansion, national parks and protected areas. The main species covered include bears, wolves, lynx, and leopards.
The book provides a novel perspective for advanced students, researchers and professionals in ecology and conservation, wildlife management, human-wildlife interactions, environmental education and environmental social science.
About the Author
---
Tasos Hovardas is the Human Dimensions Expert of CALLISTO - Wildlife and Nature Conservation Society, and through CALLISTO, he is providing consultancy services to the EU Platform on Coexistence between People and Large carnivores. Tasos acts as Editor-in-Chief of Society & Natural Resources (2017-2020) together with Prof. Linda Prokopy (2017-2020). He is an Editorial Board Member of the Journal of Research in Science Teaching (2017-2020) and a member of the Research in Science & Technology Education Group at the University of Cyprus.