Climate Change, Gender Roles and Hierarchies: Socioeconomic Transformation in an Ethnic Minority Community in Viet Nam (Routledge International Studies of Women and Place) (Paperback)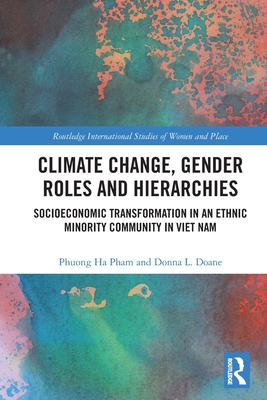 Description
---
This book examines changing gender roles, relations and hierarchies in an ethnic minority community in Central Viet Nam. After decades of war, the community continued its self-sufficient way of life in this remote forested mountainous region, but in recent years has been forced to respond to severe climate threats combined with sudden and destabilizing socioeconomic and regulatory change.
Through the use of both qualitative (interview-based) and quantitative research methods, the book offers insights into the complex interactions between climate, regulatory and socioeconomic changes - including, paradoxically, the emergence of significant problems for both the community and the environment in the wake of policies designed to protect the natural environment. Facing greatly increased food and livelihood insecurity, the women and men of the community were pushed into the mainstream market economy without being fully prepared to participate in an economy that is still very new to them. These sudden transitions caused major shifts in gender roles and hierarchies, opening up new possibilities for women to increase their social status in a highly patriarchal context, but also at a cost for both women and men as women's burdens increased and men's traditional roles and livelihoods were lost. The book examines recent trends, including unanticipated changes and new possible policy-related approaches, and draws international comparisons with other ethnic minority, indigenous and remote communities facing similar complex forces of change.
This book will be of interest to scholars and postgraduate students of climate change, gender, environment, and public policy and development studies.
About the Author
---
Phuong Ha Pham has been working as a researcher and independent gender consultant for international organizations in Viet Nam and in the Greater Mekong Subregion, focusing primarily on women's empowerment, gender and ethnicity, gender and agriculture/rural development, and gender and climate change.Donna L. Doane has been working in universities and research institutions in Thailand, the Philippines, India, Japan and the United States, focusing on issues related to the informal economy, low-income women's economic empowerment and security, gender and ethnicity, and indigenous knowledge and technology blending.