Planning in an Uncanny World: Australian Urban Planning in an International Context (Rtpi Library) (Paperback)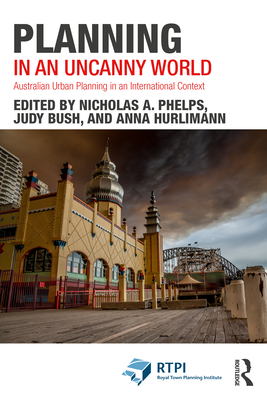 Description
---
This book places Australian conditions and urban planning centrally within comparative analysis of planning systems and cultures around the world to address issues including urban governance, climate change, transportation planning, regional development and migration planning.
Australian urban conditions and their associated planning responses can and often have been seen as unique or exceptional. They are seldom discussed in the same breath as conditions and associated planning systems internationally. Yet, as well as being somewhat different from those elsewhere in the world, Australian urban conditions and planning responses are also somewhat similar. They are uncanny - strangely familiar yet unfamiliar. In this book, Australian urban conditions, and their planning policies and practices are informally compared and contrasted with those existing internationally. If Australian urban planning policy and practice have had limited influence internationally, the partial familiarity of challenges posed by its urban conditions ensure that Australia is a more important global reference point for scholarship and practice than commonly is appreciated.
In this book the authors assert the potential and actual originality of urban planning scholarship arising from the Australian context. It will be useful for students and faculty, planners working in Australia, as well as anyone interested in international planning debates.
About the Author
---
Nicholas A. Phelps is Professor and Chair of Urban Planning at the University of Melbourne. He previously was Professor of Urban and Regional Development at the Bartlett School of Planning, and Pro Vice Provost Regional (Southeast Asia), University College London. He has written extensively on the planning and politics of suburbanisation including the volumes Post-Suburban Europe (2006, Palgrave-MacMillan), An Anatomy of Sprawl (2012, Routledge RTPI Series), Sequel to Suburbia (2015, MIT Press), Interplaces (2017, OUP) and The Urban Planning Imagination (2021, Polity).Judy Bush is Senior Lecturer in Urban Planning. Her research focuses on urban nature based solutions, climate change and governance. Prior to academia she worked with local government alliances on climate change, biodiversity conservation and waterway restoration.Anna Hurlimann is Associate Professor, Urban Planning at the University of Melbourne Australia. Anna's teaching and research interests focus on environmental planning, with a particular focus on planning for climate change. Anna is the lead chief investigator of an Australian Research Council Grant titled Integrating climate change adaptation and mitigation in built environments (DP200101378) with funding 2020-2023.