100 Poems (Hardcover)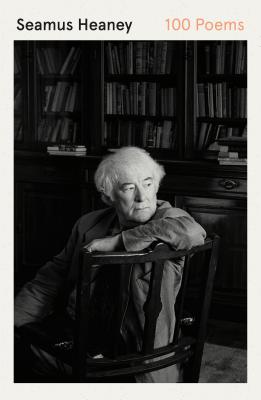 $25.00

Special Order - may be out of print
Staff Reviews
---
This collection was gathered by the poet's family to carry out Heaney's own idea for a personal selection of work from his entire writing career.  His musical-poetic voice rings true throughout with his love of language and image,  humor, and clear-eyed observation of deeply personal, as well as historic events
Had I not been awake I would have missed it,
A wind that rose and whirled until the roof
Pattered with quick leaves off the sycamore
And got me up, the whole of me a-patter,
Alive and ticking like an electric fence:
Had I not been awake I would have missed it,
...
(excerpt from 'Had I not been awake', included in Seamus Heaney 100 Poems)
— Liz
Description
---
Selected poems from a Nobel laureate

In 100 Poems, readers will enjoy the most loved and celebrated poems, and will discover new favorites, from "The Cure at Troy" to "Death of a Naturalist." It is a singular and welcoming anthology, reaching far and wide, for now and for years to come.

Seamus Heaney had the idea to make a personal selection of poems from across the entire arc of his writing life, a collection small yet comprehensive enough to serve as an introduction for all comers. He never managed to do this himself, but now, finally, the project has been returned to, resulting in an intimate gathering of poems chosen and introduced by the Heaney family. No other selection of Heaney's poems exists that has such a broad range, drawing from the first to the last of his prizewinning collections.
About the Author
---
Seamus Heaney (1939-2013) received the Nobel Prize in Literature in 1995. His poems, plays, translations, and essays include Opened Ground, Electric Light, Beowulf, The Spirit Level, District and Circle, and Finders Keepers. Robert Lowell praised Heaney as the "most important Irish poet since Yeats."
Praise For…
---
"100 Poems—a short, career-spanning selection—completes a project that Heaney began during his lifetime. Compiled by Heaney's 'immediate family,' with a preface by his daughter Catherine, it highlights his work as a poet of friendship and family, of careful and long-felt affiliation, not only to land and language but to the people who stayed with him throughout the decades. . . . as 100 Poems emphasizes, for any of his admirers who have not noticed—Heaney remained a poet of attachments."—Stephanie Burt, The New Yorker

"Most great poets leave behind a fistful of classic poems. Heaney's oeuvre is so vast and varied there's an even hundred, from the sad realism of "Wedding" to "Clearances," his poignant poem about potato peeling with his mother, to "Digging," the credo of any seeker with a pen and a history to uncover. They're all collected here in one handy handsome volume, the new best selection of his work yet." –John Freeman, Literary Hub