The Heart Broke in (Hardcover)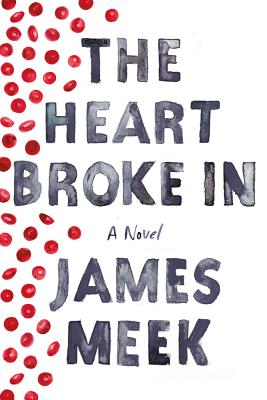 $28.00

Special Order - may be out of print
Staff Reviews
---
 One of my three favorite novels published in 2012, this is the story
of scientist Bec
(Rebecca) Shepherd and her aging, rock-n-roller brother Ritchie.
Both carry
secrets concerning their father, a British solider who was killed
when they were
kids. The story follows Bec as she travels back and forth from
London to Africa searching
for a malaria cure. Along the way she meets Alex another scientist,
Dickensian and
delightful.
James Meeks writes short, beautifully composed chapters in elegant
prose. He also
creates realistic interactions with his characters. His plot is
intricate and satisfying with
clever twists, surprises, and betrayals. There are also a lot of
laughs, especially involving
the wonderful Alex and his pursuit of Bec.
~John
Description
---
From James Meek, the award-winning author of the international bestseller The People's Act of Love, comes a rich and intricate novel about everything that matters to us now: children, celebrity, secrets and shame, the quest for youth, loyalty and betrayal, falls from grace, acts of terror, and the wonderful, terrible inescapability of family.
Ritchie Shepherd, an aging pop star and a producer of a reality show for teen talent, is starting to trip over his own lies. Maybe filming a documentary about his father, Captain Shepherd, a British soldier executed by Northern Irish guerrillas, will redeem him.
His sister, Bec, is getting closer and closer to a vaccine for malaria. When she's not in Tanzania harvesting field samples, she's peering through a microscope at her own blood to chart the risky treatment she's testing on herself. She's as addicted to honesty as Ritchie is to trickery.
Val Oatman is the editor of a powerful tabloid newspaper. The self-appointed conscience of the nation, scourge of hypocrites and cheats, he believes he will marry beautiful Bec.
Alex Comrie, a gene therapist (and formerly the drummer in Ritchie's band), is battling his mortally ill uncle, a brilliant and domineering scientist, over whether Alex might actually have discovered a cure for aging. Alex, too, believes he will marry Bec.
Colum O'Donabhain has just been released from prison, having served a twenty-five-year sentence for putting a gun to Captain Shepherd's head when he refused to give up an informer. He now writes poetry.
Their stories meet and tangle in this bighearted epic that is also shrewd, starkly funny, and utterly of the moment. The Heart Broke In is fiction with the reverberating resonance of truth.
About the Author
---
James Meek is an award-winning writer whose novels include The People's Act of Love and We Are Now Beginning Our Descent. He lives in London.
Praise For…
---
Praise for The Heart Broke In

"James Meek's new novel has all the urgent readability of his previous work combined with a wide-ranging vision of social and personal responsibility that's very rare in current fiction. I suppose we could call it a moral thriller. Whatever we call it, I was enormously impressed." —Philip Pullman

"There is much to enjoy in this ambitious portrait of deeply human characters, grappling with how to live in the modern world, where science is capable of almost anything." —Publishers Weekly

"Meek's latest novel is wall-to-wall substance but remains accessible and grounded in earthly humaneness with stunning characterization and boldly realized thematic roots in the universal pursuit of youth versus the questionable finality of death; in how wisdom can sustain, and knowledge in wicked hands destroy; and that as many bonds are forged with treachery as are broken. Meek guides readers through these depths, past intersections of biology and morality, science and art, with beauty and deftness." —Annie Bostrom, Booklist (starred review)

"Richly drawn characters behaving in unexpected ways make Meek's latest a gem." —Kirkus Reviews

"Meek is a novelist of Dostoevskyan intensity and seriousness . . . The Heart Broke In is seldom less than compelling. It also has many terrific individual episodes. Meek is good on slightly messed-up family relations. He has a nice sense of the absurd . . . You have to admire the scope and ambition of this operatic saga." —Theo Tait, The Guardian

"This is a big juicy slab of a book, as thrilling and nourishing as a Victorian three-parter . . . A rich book, very much of the moment . . . It is a generous, kind book, and it is kindness, an immutable quality, that is presented here as the antidote to dogmatic moralising. Like Larkin's Arundel tomb, The Heart Broke In proves our almost instinct almost true. What will survive of us is love." —Wynn Wheldon, The Spectator

"James Meek is Britain's answer to Don DeLillo . . . The Heart Broke In marks a deepening of the vision of The People's Act of Love . . . Meek writes with taut control. The plot is dreamy, deceptive and allusive, packed with cues and clues . . . Halfway through, the heart breaks in, a real chronology begins, and cool, detached satire gives way to a complex meditation on death and time and the family." —Brian Morton, The Independent

"Juicy . . . [A] lively culture clash of a novel . . . A novel shimmering with black humour, which for the sheer verve of the writing deserves a long shelf life." —Lucy Beresford, The Daily Telegraph

"A readable addition to this justifiably acclaimed writer's oeuvre . . . The biting wit and social satire that characterised We Are Now Beginning Our Descent manifests itself in this novel with an entertaining cast of minor characters . . . Here is a novelist writing fat, complex but readable novels that have something serious to say about the way we live now and the society we live in. Along with Philip Hensher, he is the nearest British fiction has to a John Irving." —Louise Doughty, The Observer (London)

Praise for The People's Act of Love

"Remarkable . . . Richly informed and imagined . . . [An] ingenious, intricate novel, a meditation on grand ideas that is also a suspenseful page-turner." —Boris Fishman, The New York Times Book Review

"Magnificent . . . Heart-pounding . . . Original and breathtaking . . . An altogether soul-shaking novel, tightly mixing pathos and grandeur . . . Meek has created a tremendously impressive work of art, at once serious, upsetting and astonishingly moving." —Michael Dirda, The Washington Post Book World

"[No] comparisons, much less an inventory of genres, quite capture this novel's propulsive force . . . Meek continually surprises with an image, a turn of phrase or an idea, sometimes several at once. Yet the richness of his thought never cloys, never congeals. More than anything else, this reviewer envies anyone who picks it up and enjoys the continual rations of delight this novel has to deal out." —Jesse Berrett, San Francisco Chronicle

"Spellbinding . . . A perfectly realised work . . . A beautifully written novel which, though set in the past, feels like the most contemporary fiction you'll ever read . . . The People's Act of Love has a timeless quality; it will be read, referenced, studied and talked about for years to come." —Irvine Welsh, The Guardian