Moonbird: A Year on the Wind with the Great Survivor B95 (Hardcover)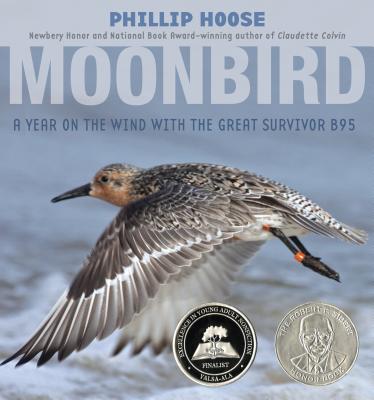 $25.99

usually available in 3-5 business days
Description
---
B95 can feel it: a stirring in his bones and feathers. It's time. Today is the day he will once again cast himself into the air, spiral upward into the clouds, and bank into the wind.

He wears a black band on his lower right leg and an orange flag on his upper left, bearing the laser inscription B95. Scientists call him the Moonbird because, in the course of his astoundingly long lifetime, this gritty, four-ounce marathoner has flown the distance to the moon—and halfway back!

B95 is a robin-sized shorebird, a red knot of the subspecies rufa. Each February he joins a flock that lifts off from Tierra del Fuego, headed for breeding grounds in the Canadian Arctic, nine thousand miles away. Late in the summer, he begins the return journey.

B95 can fly for days without eating or sleeping, but eventually he must descend to refuel and rest. However, recent changes at ancient refueling stations along his migratory circuit—changes caused mostly by human activity—have reduced the food available and made it harder for the birds to reach. And so, since 1995, when B95 was first captured and banded, the worldwide rufa population has collapsed by nearly 80 percent. Most perish somewhere along the great hemispheric circuit, but the Moonbird wings on. He has been seen as recently as November 2011, which makes him nearly twenty years old. Shaking their heads, scientists ask themselves: How can this one bird make it year after year when so many others fall?

National Book Award–winning author Phillip Hoose takes us around the hemisphere with the world's most celebrated shorebird, showing the obstacles rufa red knots face, introducing a worldwide team of scientists and conservationists trying to save them, and offering insights about what we can do to help shorebirds before it's too late. With inspiring prose, thorough research, and stirring images, Hoose explores the tragedy of extinction through the triumph of a single bird. Moonbird is one The Washington Post's Best Kids Books of 2012.

A Common Core Title.
About the Author
---
Phillip Hoose is an award-winning author of books, essays, stories, songs and articles. Although he first wrote for adults, he turned his attention to children and young adults in part to keep up with his own daughters. His book Claudette Colvin won a National Book Award and was dubbed a Publisher's Weekly Best Book of 2009. He is also the author of Hey, Little Ant, co-authored by his daughter, Hannah; It's Our World, Too!; The Race to Save the Lord God Bird; The Boys Who Challenged Hitler; and We Were There, Too!, a National Book Award finalist. He has received a Jane Addams Children's Book Award, a Christopher Award, a Boston Globe-Horn Book Award, and multiple Robert F. Sibert Honor Awards, among numerous honors. He was born in South Bend, Indiana, and grew up in the towns of South Bend, Angola, and Speedway, Indiana. He was educated at Indiana University and the Yale School of Forestry. He lives in Portland, Maine.
Praise For…
---
"[A] deeply researched, engaging account…" —School Library Journal, starred

"Putting an actual beaked face to the problem of animal endangerment makes the story of the species' peril all the more compelling, and only the truly hard of heart could resist cheering for B95 to make it through one more trip." —BCCB, Starred

"With an effective mix of facts and conjecture, Hoose conveys B95's wide experience, from the challenges of his first month in Arctic Canada 20 years ago to the physical demands of flying for three days straight. Hoose's vivid prose and the book's close-up photos give a sense of other red-knot talents, like fattening up for a long flight and sleeping while staying alert for predators. And there's recent good news: B95 was photographed in late May, feasting on horseshoe crab eggs in Delaware Bay. " —The Washington Post

"Hoose's fascinating account concerns much more than this one bird." —Horn Book, starred

"...beautiful and vivid…" —VOYA

"Hoose's stature as a preeminent nonfiction author combined with the high-interest animal hook will generate hearty attention and enthusiasm for this one." —Booklist, starred

"Readers will appreciate Hoose's thorough approach in contextualizing this amazing, itinerant creature…" —Publishers Weekly, starred

"Meticulously researched and told with inspiring prose and stirring images, this is a gripping, triumphant story of science and survival. " —Kirkus, starred