Holy War: The Crusades and Their Impact on Today's World (Paperback)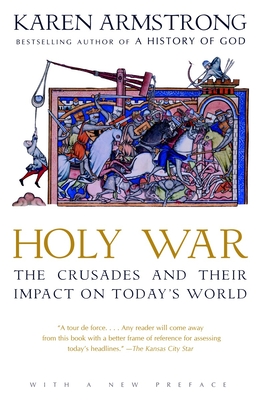 Description
---
The New York Times bestselling author of A History of God skillfully narrates the history of the Crusades with a view toward their profound and continuing influence.

"A tour de force.... Any reader will come away from this book with a better frame of reference for assessing today's headlines." —The Kansas City Star

In 1095 Pope Urban II summoned Christian warriors to take up the cross and reconquer the Holy Land. Thus began the holy wars that would focus the power of Europe against a common enemy and become the stuff of romantic legend. In reality the Crusades were a series of rabidly savage conflicts in the name of piety. And, as Armstrong demonstrates in this fascinating book, their legacy of religious violence continues today in the Middle East, where the age-old conflict of Christians, Jews, and Muslims persists.
About the Author
---
KAREN ARMSTRONG is the author of numerous other books on religious affairs—including A History of God, The Battle for God, The Case for God, Islam, Buddha, and The Great Transformation—and two memoirs, Through the Narrow Gate and The Spiral Staircase. Her work has been translated into forty-five languages. She has addressed members of the U.S. Congress on three occasions; lectured to policy makers at the U.S. State Department; participated in the World Economic Forum in New York, Jordan, and Davos; addressed the Council on Foreign Relations in Washington and New York; is increasingly invited to speak in Muslim countries; and is now an ambassador for the UN Alliance of Civilizations. In February 2008 she was awarded the TED Prize and recently launched with TED a Charter for Compassion, created online by the general public and crafted by leading thinkers in Judaism, Christianity, Islam, Hinduism, and Buddhism to restore compassion to the centre of morality and religion. She lives in London.
Praise For…
---
"A tour de force. . . . Any reader will come away from this book with a better frame of reference for assessing today's headlines." —The Kansas City Star

"Holy War brings compassion, objectivity, breadth, and imagination to the most urgent crisis of our time." —The Boston Phoenix

"Erudite, balanced, and lucidly written. . . . [Provides] a mine of useful information on Muslim-Western perceptions of each other. . . . An important book." —Library Journal