The Annotated Little Women (The Annotated Books) (Hardcover)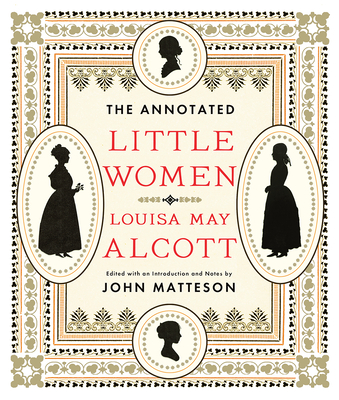 $39.95
usually available in 5-10 days
Description
---
The Pulitzer Prize–winning biographer of Louisa May Alcott illuminates the world of Little Women and its author.
Since its publication in 1868–69, Little Women, perhaps America's most beloved children's classic, has been handed down from mother to daughter for generations. It has been translated into more than fifty languages and inspired six films, four television shows, a Broadway musical, an opera, and a web series. This lavish, four-color edition features over 220 curated illustrations, including stills from the films, stunning art by Norman Rockwell, and iconic illustrations by children's-book illustrators Alice Barber Stevens, Frank T. Merrill, and Jessie Wilcox Smith.
Renowned Alcott scholar John Matteson brings his expertise to the book, to the March family it creates, and to the Alcott family who inspired it all. Through numerous photographs taken in the Alcott family home expressly for this edition—elder daughter Anna's wedding dress, the Alcott sisters' theater costumes, sister May's art, and Abba Alcott's recipe book—readers discover the extraordinary links between the real and the fictional family.
Matteson's annotations evoke the once-used objects and culture of a distant but still-relevant time, from the horse-drawn carriages to the art Alcott carefully placed in her story to references to persons little known today. His brilliant introductory essays examine Little Women's pivotal place in children's literature and tell the story of Alcott herself—a tale every bit as captivating as her fiction.
About the Author
---
Louisa May Alcott (1832–1888) is a much beloved author of American literature, in particular the Little Women trilogy, centered on the semiautobiographical March family (Little Women, Little Men, and Jo's Boys). Best known in her time for Little Women, An Old-Fashioned Girl, and Little Men, her obituary in the New York Times declared, "There was probably no writer among women better loved by the young than she."

John Matteson received the Pulitzer Prize for Biography for Eden's Outcasts: The Story of Louisa May Alcott and Her Father and the Ann M. Sperber Prize for The Lives of Margaret Fuller. A Distinguished Professor of English at John Jay College of Criminal Justice and the editor of The Annotated Little Women, he resides in the Bronx.
Praise For…
---
Like other Norton Annotated Classics, The Annotated Little Women offers a bridge from nostalgia to a deeper understanding of the work, balancing Matteson's introduction, annotations and lengthy biographical essay with an inviting array of illustrations, photographs and color movie stills.

— Amy Gentry - Chicago Tribune

[John] Matteson, who won the Pulitzer for his biography of Alcott and her father, brings all his knowledge to bear on this behemoth edition of the novel, brimming over with artifacts and sidebars that attempt to illuminate this classic novel without defining it.
— Genevieve Valentine - NPR