Jersey Breaks: Becoming an American Poet (Hardcover)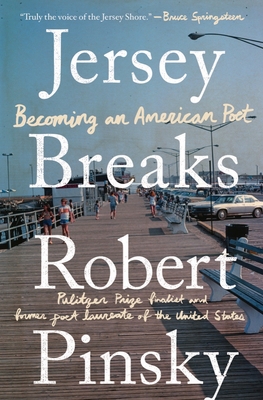 $26.95

usually available in 3-5 business days
Description
---
"Truly the voice of the Jersey Shore." —Bruce Springsteen
In late-1940s Long Branch, a historic but run-down Jersey Shore resort town, in a neighborhood of Italian, Black, and Jewish families, Robert Pinsky began his unlikely journey to becoming a poet. Descended from a bootlegger grandfather, an athletic father, and a rebellious tomboy mother, Pinsky was an unruly but articulate high school C student, whose obsession with the rhythms and melodies of speech inspired him to write.
Pinsky traces the roots of his poetry, with its wide and fearless range, back to the voices of his neighborhood, to music and a distinctly American tradition of improvisation, with influences including Mark Twain and Ray Charles, Marianne Moore and Mel Brooks, Emily Dickinson and Sid Caesar, Dante Alighieri and the Orthodox Jewish liturgy. He reflects on how writing poetry helped him make sense of life's challenges, such as his mother's traumatic brain injury, and on his notable public presence, including an unprecedented three terms as United States poet laureate.
Candid, engaging, and wry, Jersey Breaks offers an intimate self-portrait and a unique poetic understanding of American culture.
About the Author
---
Robert Pinsky is the author of numerous books of poetry, including the Pulitzer Prize finalist The Figured Wheel, and prose, including The Sounds of Poetry. He served as United States Poet Laureate from 1997 to 2000, during which time he founded the Favorite Poem Project. He has edited several anthologies, most recently The Book of Poetry for Hard Times. Pinsky teaches at Boston University and lives in Cambridge, Massachusetts.
Praise For…
---
In his gripping memoir, Robert Pinsky chronicles his Jewish American upbringing in New Jersey and shows how it led him to poetry, vividly illuminating a disappearing time and place in America, and shining a light on what it means to be a poet. At once expansive and lyrical, historically significant and deeply intimate, Jersey Breaks tells an unforgettable story.

— Meghan O'Rourke, author of The Invisible Kingdom

Robert Pinsky pays attention. That's how he became an American poet: by hearing music even in the syllables of the conductor's voice calling out, 'Passengers going to Hoboken, change trains at Summit.' Only such a poet, so attuned to the melody of language, could see the formidable feat of translating Dante as a matter of 'metrical engineering.' The other half of that phrase is important, too, since engineering is a question of work, and this is a chronicle of the working class, the memoir of an optician's son, who understands that real work is essential to the creation and appreciation of poetry. (He was a distracted student, producing as hilarious proof here a report card only a future poet could generate.) This poet knows well that he owes his life as a poet to others—his recollections of teachers like Paul Fussell are particularly vivid—and so he was a generous poet laureate committed to the principle of service, listening to the voices of others. In that spirit, we should listen to the voice of Robert Pinsky, the intelligence and grace of his prose, his poetry, his song.
— Martín Espada, National Book Award–winning author of Floaters

What makes a great poet? Robert Pinsky provides some of the ingredients to his becoming an American original. We know that a language obsession will feed itself in unlikely places. But what places, exactly? Poetry craves particulars. Pinsky gives us Izzy Ash's junkyard, the Tally-Ho Tavern, the magazines in the waiting room of his father's optical shop, the library at Stanford University. He's too wise to force cohesion. The result is a lyrical coming-of-age story centered around lyricism itself.
— Russell Shorto, author of Smalltime