Curious George Goes to the Hospital (Paperback)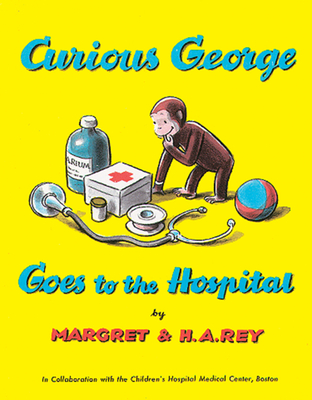 Description
---
Read about Curious George's operation, the doctors and nurses who care for him, and the friends he makes while recovering in this story all about what it's like to go to the hospital.

When George's curiosity leads him to swallow a puzzle piece, he ends up with quite a tummy ache! Not to worry, George's doctor knows just what he needs to feel better: a trip to the hospital. This story about all the things you can expect from a hospital visit was created by Margret and H. A. Rey to help readers explore their curiosity, and overcome their fears, about the hospital, and has delighted children for generations.
About the Author
---
H. A. Rey (1898–1977) was born in Hamburg, Germany, near the world-famous Hagenbeck Zoo, and developed a lifelong love for animals and drawing. He and his wife, Margret (1906–1996), who studied art at the acclaimed Bauhaus school, had many pets—including two marmoset monkeys that joined them on one of their steamship journeys across the Atlantic. Hans and Margret's world-famous curious monkey first appeared in a manuscript strapped to their bicycles as they fled wartime Paris for the safety of the United States. Committed philanthropists in their own lives, a portion of proceeds from each Curious George book sold flows to the Curious George Foundation, which funds programs for children that encourage inquisitiveness in learning and exploring. Curious George has been successfully adapted into a major motion picture and an Emmy-winning television show on PBS.www.curiousgeorge.com.
Praise For…
---
"While beginning readers are convinced that they are enjoying themselves with George, their supervising adults are equally sure that they are learning something. Both are absolutely right." Kirkus Reviews