Five Alien Elves (Hardcover)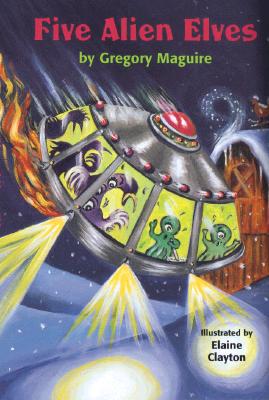 Email or call for price.
Hard to Find - this title is likely out of print
Description
---
On the night before Christmas, something is flying over Hamlet, Vermont, but it isn't a sleigh with reindeer. It's a UFO bearing five aliens on a mission: to free this planet from its evil dictator, a fat man in a red suit and a long white beard. Disguised as Earthlings--well, elves--they meet Mayor Grass, fresh from his annual appearance in Santa Claus costume, and capture him. It's up to Miss Earth's students, the Tattletales (all the girls except Pearl) and the Copycats (all the boys), to set aside their differences and concoct a rescue scheme. In this Yuletide sequel to Seven Spiders Spinning and Six Haunted Hairdos, visitors from the Planet Fixipuddle join the familiar folks of Hamlet--Miss Earth, Grandma Earth, and the rival Tattletales and Copycats--in a comic extravaganza that is literally out of this world.
About the Author
---
Gregory Maguire is the popular author of many books for children, including the Hamlet Chronicles for Clarion, as well as several adult books, including WICKED (HarperCollins), upon which a Broadway musical was based, and its sequel, CONFESSIONS OF AN UGLY STEPSISTER (Regan Books). He lives in Concord, Massachusetts.
Praise For…
---
"This clever comedy, with humor both braod and sly, has the odd combination of hilariously fractious aliens and a generous amount of Christmas cheer, but it works." Kirkus Reviews