When the Wind Blows (Hardcover)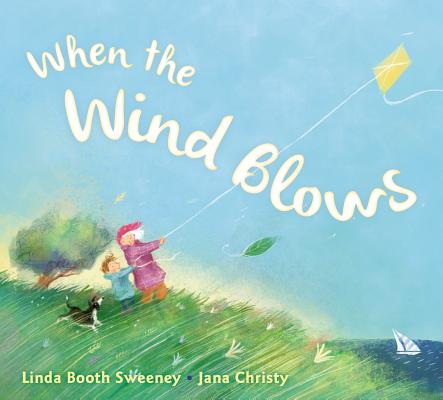 $16.99

Special Order - may be out of print
Description
---
Spring weather can be exciting! 

When wind chimes start singing and clouds race across the sky, one little guy knows just what to do—grab his kite!

But as the kite soars, the wind picks up even more, and soon he and his grandma are chasing the runaway kite into town. As they pass swirling leaves, bobbing boats, and flapping scarves, breezes become gusts and the sky darkens. Rain is on the way! Can they squeeze in one more adventure before the downpour?

Scenes rich with springtime details for little eyes to follow and lyrical verse that captures the changeable mood of the weather make this perfect for spring story times.
About the Author
---
Linda Booth Sweeney wrote this book after nearly floating away in a windstorm while on a walk with her then-toddler son. They both thought it was hilarious and have enjoyed wild and woolly storms ever since. Linda is the author of three nonfiction books: The Systems Thinking Playbook, When a Butterfly Sneezes, and Connected Wisdom. This is her first children's book.
Linda lives near Boston with her husband, three children, Rugby the dog, Boo the parakeet, Cinnamon Bun the rabbit, and a gecko named Gregg.

Jana Christy did much of the art for this book during hurricane-force winds on a small island off the coast of Nova Scotia—flags flapped and walls shook in a house that looks remarkably like the house in this story. She loves drawing girls with attitude, boys with pluck, the chickens that wander around her garden, punks, robots, cavemen and zombies, bleak weather, windy days, sea creatures, and more. She loves creating handmade minibooks with her husband, exploring new places with her children, and letting her brain and brushes wander. She lives in North Adams, Massachusetts.
Praise For…
---
*"Electric colors evoke the kinetic energy that crackles before a storm and the irrepressible excitement a good squall brings out in young and old. …   The book's exhilarating verse [is] metronomic and as succinct as the heartbeat throbbing in the cold ears of a child racing back to his dry house… Gale-force gusts of invigorating artwork and imagery will leave readers breathless in windswept wonder."--Kirkus Reviews, starred review
 
"The rhythm of the book seems to mimic the steady blow of the wind on each page. Young readers will enjoy following the story in the supporting gorgeous watercolor images as they watch the winds pick up speed."--School Library Journal
 
"The rhymes are fresh and unpredictable, and the narrative maintains a crisp rhythm throughout. Christy's illustrations align closely with the text, effectively capturing swirling winds, swinging signs, and swaying tree branches."--Booklist